On my first trip to Cancun a few years ago, I had no idea what the Cancun Hotel Zone was. After having been back, and stayed there several times, I can happily answer those wondering what the Cancun Hotel Zone is!
And in this post I will do just that.
The Hotel Zone is also known as the Zona hotelera, and both are terms you will hear frequently when planning a trip to Cancun (and subsequently, the Riviera Maya).
What is the Cancun Hotel Zone?
To put it simply, the Cancun Hotel Zone is an area of Cancun where you will find most of the larger hotels (often nice, all-inclusive resorts) in the city. However, there's more to it than that!
The Hotel Zone is a 22,5-kilometer (14-mile) strip of land just a few minutes from the city center of Cancun, shaped almost like the number 7. It connects with the mainland on both ends of the "seven", but is mostly surrounded by water.
The strip, which is technically an island, is man-made. It was built in 1970, and consists only of hotels and amenities aimed at tourists. There are actually over 70 hotels and resorts in the zone!
On one side of the strip you will find the Caribbean Sea, and on the other (between the strip and the mainland) is the Nichupté Lagoon. In the middle of the strip is a road (called Avenida Kukulcan), and on each side of it you will find hotels and entertainment.
There are luxurious resorts, all-inclusive hotels, as well as restaurants and clubs for entertainment along the strip.
Some people find that staying in downtown Cancun is preferable over the Hotel Zone, but there really is no right or wrong answer here.
Tips & Tricks for the Cancun Hotel Zone
Below you will find a few tips & tricks for visiting the Zona Hotelera in Cancun. Some of these you may find are a little obvious, whilst others are nice pieces of advice to know before your trip to Cancun.
#1 Taxis are controlled
When booking a stay in the Zona Hotelera, know that the taxis in the area are controlled by the local taxi union (which sounds pretty much like the cartels/mafia when speaking to local drivers).
This means that only certain taxis can pick you up along the strip. When taking a taxi from downtown Cancun to one of the resorts, for example, the taxi driver is not allowed/able to pick up passengers on his drive back.
I know this sounds like it is very difficult to get a taxi in the Hotel Zone, but don't worry. There are plenty of taxis there, and the resorts and restaurants are always happy to call you one.
As a visitor, you don't really notice that the taxis are regulated, other than the fact that the prices are quite high. However, this is still a good thing to be aware of.
It is possible to get an Uber in the Hotel Zone, but keep in mind that there is conflict between the Uber drivers and the local "taxi mafia" (initiated by the taxi drivers).
I found during my stay at the Grand Fiesta Americana Coral Beach that the Uber app kept showing no available cars in the area.
My friend Emily has a great guide to taking Uber in Cancun, with helpful advice such as making sure to step away from taxis and taxi ranks when waiting for an Uber, and sitting in the front seat so it looks like you are traveling with a friend.
#2 Everything is More Expensive
As you probably might have guessed, prices in the Cancun Hotel Zone are higher than in downtown Cancun. This is a natural result of upscale hotels and resorts drawing wealthy tourists to the area.
One thing I learned on my second trip to Cancun and Mexico was that often the price you are given for something (such as a taxi ride or a souvenir from a vendor) depends on how much you look like you are able to pay!
This was quite shocking to learn, but also just how the world works in touristy areas of Mexico.
I found that it helps to be able to speak a little bit of Spanish.
On the hotel strip you will find this mainly with taxis, as everything else usually has a set price. However, keep in mind that food, cocktails, taxis and tours are more expensive in the Hotel Zone.
When it comes to tours, you may find that it is cheaper to book them in advance online (other than trying to haggle with an agent once you get to Cancun). See a few great tour options below!
#3 Tours Mainly Pick Up from the Hotel Zone (but not from outside the hotel)
If you are joining a day trip or tour from Cancun, you will be happy to hear that most tour companies can pick you up at your resort in the Hotel Zone. However, if you are not staying there, you'll probably be a little annoyed to learn that many tour companies only pick up from hotels in the Cancun Hotel Zone.
For those going on a tour, your pick up is not likely to be right outside the entrance to your hotel, however. When going on the Cancun Sailing catamaran tour, for example, we had to walk down the driveway of our hotel to meet the pick up.
I believe this is only for third-party tours. Each hotel usually has a tour company (or several) that they work with, and these will pick you up right at the entrance.
#4 All beaches are public
This is such a great thing to be aware of.
All the beaches along the Hotel Zone are public (on both sides of the strip). So even though some hotels (try to) block them off, you can go and relax (and swim) on any of the beaches along the man-made 7-shaped strip of land.
Pretty cool, huh?
#5 Getting around the Hotel Zone
As mentioned, the Hotel Zone is very walkable, and you'll find plenty of nice pathways and sidewalks everywhere. However, as it is 22,5 kilometers (14 miles) long, you may not want to walk the length of it when exploring.
Luckily, in addition to the option of taking a taxi, there are buses running the length of the Hotel Zone all day.
Route R1 ("Bus One", great name, huh?) runs the entire length of the Zona Hotelera and to the downtown Cancun bus station. There are bus stops outside most of the major resorts on the strip.
The current cost (at the time of writing) is 12 pesos for a ticket. The price is the same regardless of whether you are going one or 10 stops.
If possible, try to have exact change, to make it easier for both yourself and the driver.
Hotel Zone Cancun Map
Below is a map of the Cancun Hotel Zone, to give you a visual idea of what I have just described here. You should be able to clearly see how it is shaped like the number 7, and how it is separated from the mainland by the Nichupté Lagoon.
You can also see where the Hotel Zone is in comparison to downtown Cancun and the airport.
Top tip: make sure to book your Cancun airport transfer before you go, to avoid being hassled by countless tour operators and taxi companies upon arrival. The experience of arriving at the airport can be pretty daunting, but having your transfer sorted in advance will save you a lot of trouble (and haggling).
In addition to being much easier, it is also cheaper to book your transfer in advance. This one, for example, is around $20. On my last trip to Cancun, one of the taxi companies at the airport quoted me a cost of 1350 MXN (around $70) to get to my hotel!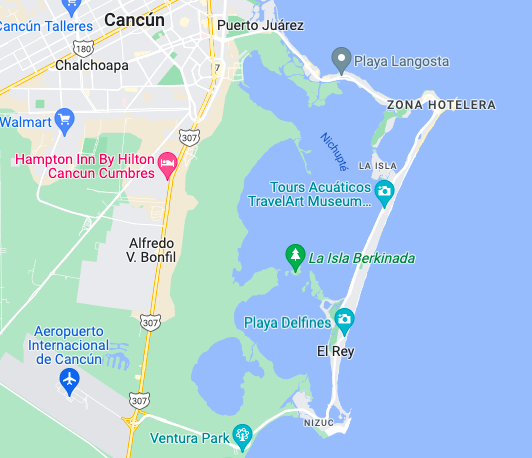 Cancun Hotel Zone FAQ
Below I have tried to answer most of the questions you might have about the Zona Hotelera in Cancun, Mexico!
What is the Cancun Hotel Zone?
The Cancun Hotel Zone is a manmade strip of land outside the coast of Cancun city where you will find many hotels and resorts to stay at.
Is the Hotel Zone in Cancun a good place to stay?
Yes, the hotel zone is a great place to stay in Cancun. You will find plenty of resorts and hotels, mainly suitable for a higher-priced budget.
Can you walk around the Hotel Zone Cancun?
Yes, you can walk around the Hotel Zone in Cancun, Mexico.
What does Hotel Zone in Cancun mean?
The term refers to a strip of land that was built to attract tourists in 1970. Today it is where you will find most of Cancun's larger resorts and hotels, as well as restaurants and night clubs.
Is Cancun safe outside Hotel Zone?
Yes, Cancun is a relatively safe city. Whilst pickpocketing and petty crime does happen (like in many cities around the world), fatalities in the city are mainly related to violence between gangs.
Where should we go after Cancun?
After you have been to Cancun, I highly recommend travelling further south along the coast of the Riviera Maya, to places such as Akumal, Tulum and Bacalar!

Or, visit one of Mexico's Magic Towns!
Book a Great Hotel or Resort in the Hotel Zone