After living in Bergen for years now, this guide has been a long time coming. The city known as the gateway to the fjords has so much to offer its visitors, and hopefully this guide to the best things to do in Bergen will show you why I would say so.
Bergen is considered the western Norwegian capital, and lots of travellers find themselves spending a night or two there on their way to visit the Aurlandsfjord, the Hardangerfjord or the Lysefjord. They don't call it the gateway to the fjords for nothing.
You will most likely arrive in Bergen at the airport, located just a 35-minute Light Rail ride from the city center. Once you have made it from the airport to the city, you have a lot of fun activities and things to explore ahead of you.
I'm telling you right now, don't sleep on Bergen and head straight to the fjords. Spend at least one full day in the city before you go, two ideally.
Quick Bergen Travel Guide
Where to stay: Hotel Norge is a centrally located, higher-end hotel that is perfect for any traveler – and my favorite. If you are looking for something in the historic city center, Clarion Havnekontoret is just a stone's throw from the UNESCO-listed Bryggen. For something more budget-friendly, CityBox and Moxy are great alternatives!
Where to eat: I have so many favourite restaurants in Bergen, and have covered them all in this guide. Don't miss Bryggeloftet (traditional, Norwegian), Poca Madre (Mexican), Boccone (Italian) and JAJA (International Street Food).
Top activities and tours in Bergen:
Seeing the UNESCO listed Bryggen (on your own or on a walking tour)
Hiking or taking the funicular up Mount Fløyen
Packing for Bergen: My golden rule when packing and dressing for any destination in Norway is layers. Layers, layers, layers – and Bergen is no different. Additionally, Bergen can be quite a rainy city, so a waterproof jacket such as this one is ideal. Good shoes for walking around the city is a must too (the city is very walkable).
Getting to Bergen: I have covered how to get from the airport to the city center in detail here.
Getting Around: Skyss is the official public transportation system in Bergen. Download the app Skyss Billett (ticket) to have tickets on your phone.
My Best Bergen Tips
Before I dive into the full guide to what to do in Bergen, I wanted to share a few tips first. I have collected these through the years as I have lived here, welcomed friends and family who's visited, and even rented out my apartment on Airbnb as I have been travelling.
One small tip I'll share to start is to know where the Bergen tourist information center is. It is located right by the Bergen Fish Market, inside the building there. It is a little tricky to understand how to get to the Tourist Information, as it is on the second floor of the building. Simply head straight up the long stairs facing the Fish Market, and there you are!
Side note: If you are looking for quick and easy Bergen itineraries, I have created two pre-made ones that are available for immediate download! Simply click the link for how many days you have:
1-day Bergen itinerary // 2-day Bergen itinerary
Tip #1: Den Blå Steinen
My first tip is to find and know where Den Blå Steinen is. You might be wondering what that is, and I'll tell you. Den Blå Steinen translates to "the blue stone", and it is a sculpture in the center of Bergen.
It is located at the end of Torgallmenningen, which is the main square of the city (a large open square with shops, malls and restaurants surrounding it).
Den Blå Steinen is just a large, flat, blue stone lying at an angle, and isn't very special in and of itself (see the photo above). However, it is frequently used by locals when it comes to directions. So, if you know where it is, you will always be able to understand the directions you are given if you need to ask.
Prepare yourself for a lot of "It's just up the street from Den Blå Steinen" or "When you reach Den Blå Steinen, take a left and then go straight". So, simply knowing where it is will get you far.
Tip #2: The Light Rail ByBanen
My next best Bergen tip is that if you want to save a little money and not live right in the city center, make sure you are staying along the Light Rail tracks. The Light Rail in Bergen is called Bybanen, and it is the city's pride. It has two lines, that run from the city center and all the way out to Fyllingsdalen and the Airport respectively.
Line 1 goes to the airport, and line 2 goes to Fyllingsdalen. It's really simple.
The Bybanen is a very efficient way of getting into the city center, so as long as you stay near one of its stops, you'll be able to make it into the city center in a matter of minutes.
Danmarks Plass, for example, is where I live, and a hub where several restaurants and hotels have popped up in recent years. By staying at the Moxy there, for example, you are saving some money, yet are still just a 7-minute Light Rail trip into the city center (or a 15-20-minute walk).
Tip #3: Making Reservations
My final tip is for the foodies out there. There are some really great restaurants in Bergen (click the link to read my Bergen restaurant guide!), and during high season (and Christmas party season), booking a table is necessary if you want to be guaranteed a seat.
Of course, Bergen is not a huge city, so getting a table as a drop in customer is usually not a problem. However, if you have a very specific restaurant you want to cross off your list during your visit, do yourself a favour by booking a table in advance. Most restaurants in the city lets you do this online on their website, and it's super easy.
This is especially important in June, July and August (the peak tourist months) and December (when the entire city is out for Christmas parties every weekends).
A Local's Guide to the Best Things to do in Bergen, Norway
Now that I've shared some of my top tips for visiting Bergen (I'll probably add more as I can think of them), it's time to get to the root of it all: the top things to do in Bergen!
The activities below are varied, and range from cultural, or active, to just straight fun. Whether you are looking to explore the museums and the history of the city, or want to go on some of the best hikes in the area, you'll find them here.
You can always use the table of contents above to jump directly to the sight or activity you most want to learn about.
Note that some of the items on this list have been grouped together under a heading, such as with hiking. So, if you are looking for the best hikes in Bergen, simply head down to the Hiking heading, and then you will find my recommendations there. I have done the same for parks and day trips – as it just makes sense to do it this way.
I considered doing the same with museums, but decided not to. The museums in the city are all so different, that it didn't seem ideal to group them together.
#1 Bryggen
Perhaps the most famous of Bergen's attractions is the city wharf area of Bryggen. This UNESCO World Heritage Site is considered the historic city center, with roots dating as far back as the 1100s.
Bryggen has for centuries been the center of Bergen's trade, with the Hanseatic League establishing offices here in the 1700s and 1800s. Bergen's strategic location on the coast of Norway, behind large islands protecting it from the rough weather at sea, made it a great spot for fishermen from northern Norway to connect with traders from Europe. The city started expanding beyond the dock area as a result.
Fun fact: in the 1800s, Bergen was the largest wooden city in Europe!
Today, you will recognise the buildings at Bryggen, as they are probably the most photographed destination in Bergen. The colourful wooden buildings that line the dock are beautiful to look at from afar, but once you venture behind them you will find that there is much more to explore than just their facade.
Behind them, you will find restaurants, cafes, cute shops (Heim is one of my favourite shops in Bergen, and they have a small outlet at Bryggen), galleries by local artists, and even a hotel.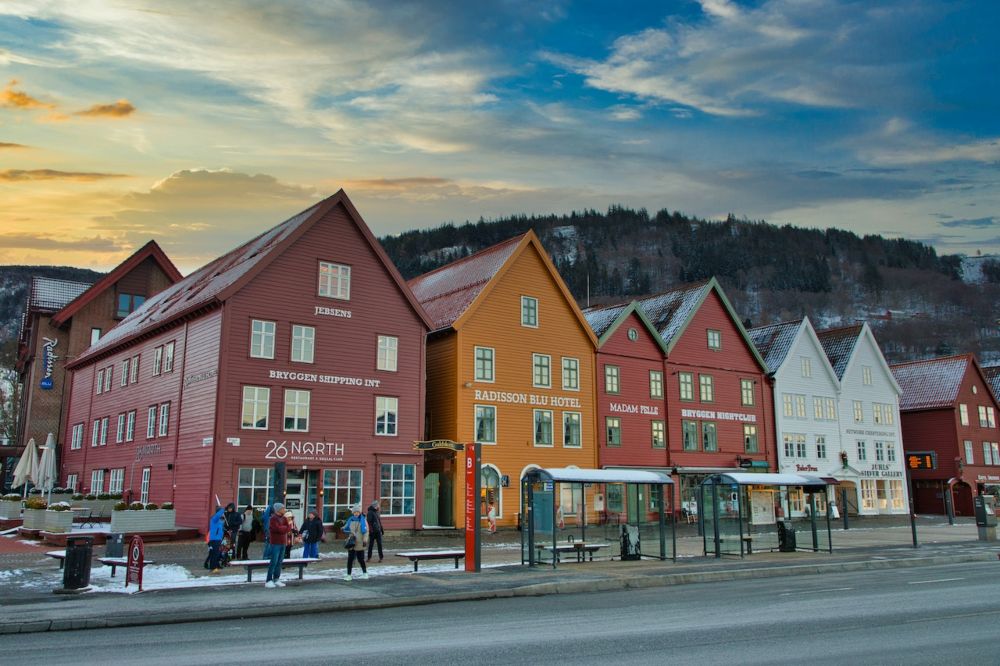 #2 Bryggens Museum
Bryggens Museum is located just around the corner from the famous Bryggen buildings, and is a modern museum that covers the history of this World Heritage Listed wharf.
With Bergen having been a thriving city for almost 1000 years, archeologists have dug up countless of treasures and artefacts in the area surrounding Bryggen. Many of these are on display here.
The museum is actually built above the remnants of the oldest house in Bergen, and you can see it through a glass floor in the museum. These remnants date back to the 1100s.
Hiking
Next up on the list is hiking. This listing is not numbered, because I have numbered the amazing hikes below instead.
Bergen is known for its hiking opportunities, and all are really close to the city center. You can walk in almost any direction from your hotel, and end up scaling a mountain within just a short amount of time.
In addition to being known as the gateway to the fjords outwardly, the city is amongst Norwegians known as Byen Mellom De Syv Fjell. This translates to "the city between the seven mountains", and eludes to the seven mountains that surround Bergen.
If you are a hiker or outdoor enthusiast, you'll be excited to hear that each of these seven mountains can be hiked! They are Fløyen, Rundemannen, Ulriken, Sandviksfjellet, Lyderhorn, Løvstakken and Damsgårdsfjellet, and I have included some of them below.
Side note: if you hope to see the northern lights in Bergen in winter, I recommend heading up on one of the mountains for the best view.
Here are the best hikes for visitors to Bergen:
#3 Fløyen (Mount Fløyen)
Fløyen is perhaps the easiest of the hikes on this list, and the easiest of the 7 mountains to hike. This (relatively) short mountain is located right in the city center of Bergen, just a short walk from both Bryggen and Den Blå Steinen (remember how I told you it was important to know where it is).
There are several trails going up Fløyen, in addition to the funicular (which is its own listing, see #14). The total hike time up the mountain is just 30-45 minutes, depending on your pace. On the way, you will pass a playground where families tend to stop to spend some time, and the views of the city just get better and better as you climb.
#4 Rundemannen Mountain
Once you have reached Fløyen, you can continue on to hike to Rundemannen, another of the 7 mountains surrounding Bergen. This is another 45-minute hike from Fløyen, continuing through the forests at the top, and up the Rundemannen mountain.
The trail is paved for the majority of the way, so this is a popular hike for families with strollers.
#5 Ulriken
Ulriken is my favourite hike in Bergen, and I have even written a complete guide to this hike in the past! It is one of the more strenuous hikes in the city, but the view is well worth it!
This hike takes you to the top of Mount Ulriken, with spectacular views of the city. You can hike it in less than an hour, and the last 20-30 minutes go up stone steps built by Sherpas (this is quite common on hikes in Norway, so get used to it).
There is also a cable car that can take you up (or down) Mount Ulriken, and it's been given its own listing as a Bergen attraction further below in this post!
The video below is from Ulriken, and should give you a pretty good idea of what this hike is like!
#6 Vidden
Vidden is another famous hike in Bergen, and it takes you across the plateau ("vidde") between Mount Ulriken and Mount Fløyen. This is a long, but worthwhile hike, and it takes around 5 hours in total.
Most people start at Mount Ulriken, and if you want, you can take the cable car up. Then, when you get to Fløyen, you can either walk back down, or take the funicular.
Personally, I think starting at Ulriken is the best, since Fløyen is so close to the city center. After a long day of hiking, it's always nice to have a short walk back to your hotel.
#7 Stoltzen
Stoltzen is somehow both the worst and the best of the hikes. It can take you as little as 20 minutes (if you are in insane shape), and is pretty much just steep, steep Sherpa steps taking you straight to the top of Sandviksfjellet Mountain, via the valley called Stoltzekleiven (thus the nickname, Stoltzen).
There is a race up here every year, and crazy people run it in around 10 minutes. However if you want to do it, you can set aside around 30-40 minutes to climb to the top.
Once you get to the top, the view is more than worth it. This is actually my favourite view of Bergen, so it's worth the climb every time.
#8 Fjellveien
If you are looking for an easy family hike, Fjellveien is perfect. Whilst it is technically more of a walk than a hike in my opinion, it's a great stroll for those who want to get some fresh air above the city.
Fjellveien goes from the bottom of the Fløyen hike (just above the base station for the funicular), and along the mountainside just a little higher than the water below. So, you can walk in alignment with the water the whole way, without any hills or challenges.
It is 4,6 kilometers (2,8 miles) long.
#9 Løvstakken
Løvstakken is one of the seven mountains of Bergen, and probably my least favourite of the hikes.
That's not because it isn't a good hike, or it doesn't have great views (some say its their favourite view of Bergen), but because my friend and I took a wrong turn on our last hike here, which resulted in us hiking for about 1,5 hours longer than intended. In addition to that I fell and hurt my knee on the way down, so..
But regardless of my misadventure on this hike, lots of people love it. It will take you around 2 hours round trip, and the view from the top gives you panoramic views of the city and surrounding areas of Bergen.
Those were just a few of the hikes worth mentioning for those visiting Bergen. Of course, there are more, but if you plan to do one of these on your visit, you should be good to go!
#10 Bergenhus Fortress
Bergenhus Fortress is one of the oldest and best kept fortresses in all of Norway, and an absolute must-visit when you are in Bergen. It is located just a stone's throw from Bryggen, so seeing both in the same afternoon is easily done.
The building of the fortress started in the early 1500s, and Bergenhus has had a long history as the seat of bishops and kings. In addition, it has been of military importance to Norway for centuries. It has actually been an active military site since 1628 (and still is today).
Inside the fortress you will find the buildings Håkonshall and Rosenkrantzstårnet, each a sight on their own (and thus listed next).
The fortress area is open all day, and it is free to enter (all though there is an extra cost to visit Håkonshall and Rosenkrantztårnet). What is perhaps most fun is that there are events taking place on the fortress grounds through the year, such as Bergenfest (see its own listing) and the Bergen Food Festival.
#11 Rosenkrantztårnet
Rosenkrantztårnet ("the Rosenkrantz Tower") is one of the main buildings to visit inside Bergenhus Fortress. Some say it is the most important renaissance building in Norway, and the majority of it was built by Erik Rosenkrantz in the 1560s. However, the oldest parts of the tower date back to the 1270s.
Erik Rosenkrantz built the tower to be his residence in Bergen, as he was the regional lord at the time. Before this, the medieval tower was home to King Magnus Lagabøte.
There are 4 floors and a cellar to explore in the Rosenkrantz Tower. You will be given a leaflet upon entry, and are free to explore on your own. Make sure to head out on the roof of the tower to get some great views of the city and Vågen (the water/bay in front of Bryggen).
Amongst the exhibitions on display here is one focusing on Anne Pedersdatter, who was a friend of the lady of the tower. Anne was a priest's wife and one of the most famous women in Norway to ever have been charged with and executed for witchcraft.
Bonus: if you are curious about Anne and this side of Bergen's history, consider this self-guided walking tour where Anne "herself" is the narrator. Basically, you download the audio guide and walk around the city on your own, as she tells the tales of Bergen and about the city's history.
#12 Håkonshall
The Håkonshall, a large stone building that has been both a royal residence and a banquet hall, is the heart of Bergenhus Fortress. It was built between 1247 and 1261, and the fortress was eventually built around it.
Inside these four walls, the creation of Norway's first set of common laws took place, as well as several royal weddings (such as the wedding between Magnus Lagabøte and the Danish Princess Ingeborg in 1261).
Lots of Medieval history in these walls, in other words.
As with Rosenkrantztårnet, you are given a leaflet upon entry, and can explore the 3 floors of Håkonshall on your own. In the summer months, there are tours in English held daily.
#13 Mount Fløyen
As mentioned above in the hiking section, Mount Fløyen is one of the most popular hikes in Bergen, as it is easily accessible from the city center, and not overly strenuous.
What a lot of people don't know is that the top of Mount Fløyen is a bit of an attraction in and of itself.
Located at just 320 meters above sea level (1000 feet), you will find a restaurant, a cafe, and an ice cream kiosk (that's open in the summer months). So lots of people opt to head up there to have lunch with epic city views.
Additionally, there are several playgrounds for children, a rope's course, lots of hiking trails and even goats roaming around (in the summer).
Spending a few hours at the top of Fløyen is highly recommended, especially on a sunny day (all though Norwegian families never let the rain stop them).
The best thing is that you don't even have to hike up! Let me introduce you to the Fløibanen Funicular!
#14 Fløyen Funicular (Fløibanen)
Getting to the top of Mount Fløyen has been easy for a century. The Fløibanen Funicular opened in 1918 and has been a trusted mode of transportation up the mountainside since then.
Making nature accessible is what we are all about in Norway!
The funicular is a fun Bergen activity on its own, in addition to working as a mode of transport for those who want to explore mount Fløyen.
the funicular leaves every 15 minutes from the bottom station (just at the end of Vetrlidsallmenningen), and takes you to the top in 5-8 minutes (depending on whether it stops at the halfway station to pick up people).
#15 (The Cannonball in) Bergen Cathedral
I know, I know. The beautiful Bergen Cathedral is the reason for this listing, but there is just no way I can fail to mention the cannonball!
To the left of the large window on the front of the cathedral (on the white tower), there is a cannonball lodged in the wall. It is quite an interesting sight, and a remnant of the only time Bergen has been in active battle.
The Battle of Vågen happened in 1665, when a group of Dutch merchants came into the harbour to escape the British ships chasing them. The Brits opened fire, and so did Bergenhus Fortress, and the battle was over pretty quickly.
One piece of evidence remains, however: the British cannonball that hit the front of the cathedral.
The oldest part of the cathedral dates back to around 1150, all though the church has been rebuilt several times since then due to damage from several fires. It is a beautiful white stone church, but in my opinion the cannonball is what makes it most interesting.
#16 Fjord Cruise from Bergen
Whilst Bergen might not be where the deep fjords of Norway are found, you'll be happy to hear that you can access some of them by going on a fjord cruise from the city!
Below is a selection of great fjord cruise tours, some private (either by speed boat or even a private yacht) and some running on a schedule.
The most popular ones go to Mostraumen, which is where you will find the most "typical" fjord landscape. These depart all-year from the docks of Bergen – right in the city center.
I have written a complete guide to best fjord cruises from Bergen here!
#17 Day trips from Bergen
In addition to being able to go on fjord cruises right from the city center, there are also several great day trips from Bergen to consider. These are particularly good if you are limited on time, but want to see the fjords and explore the areas out of the city whilst here.
#18 Flåm and the Aurlandsfjord
Of course, Flåm is one of the most popular day trips from Bergen, even though it is a 3-hour drive away.
The reason for this is that it can be reached by train, and the train ride there includes the famous Flåm Railway. I have previously covered exactly how to get from Bergen to Flåm, but will summarise here:
By train: take the Oslo-Bergen Railway to Myrdal, and change trains there to get on the Flåm Railway down to Flåm
By boat: there is an express boat travelling all the way to Flåm at the end of the Sognefjord in the summer (all though this takes 5,5 hours)
By car: drive north-east along E16 for around 3 hours to get to Flåm.
By bus: there are two bus companies covering the route: Nor-Way and Vy.
Once you get to Flåm, you can explore all the great things to do there, and get a taste of what life is like in a small fjord village like this. A lot of people visit Flåm as a part of the Norway in a Nutshell tour (which can be done in a day), and I have covered exactly how to do Norway in a Nutshell on your own here!
#19 Hardanger
The closest "proper" fjord to Bergen is the Hardangerfjord, and whilst it is less dramatic than the Nærøyfjord and the Geirangerfjord, I'd still say it's one of the best fjords in Norway.
The Hardangerfjord can be reached in just over an hour from Bergen, and from Norheimsund and Øystese you can go on an exciting fast-paced fjordsafari through the fjord, try some local cider, and enjoy a nice lunch at a historic hotel before heading back to the city.
It's the perfect day trip for those who do not want to travel too far, and who still want to explore the fjords.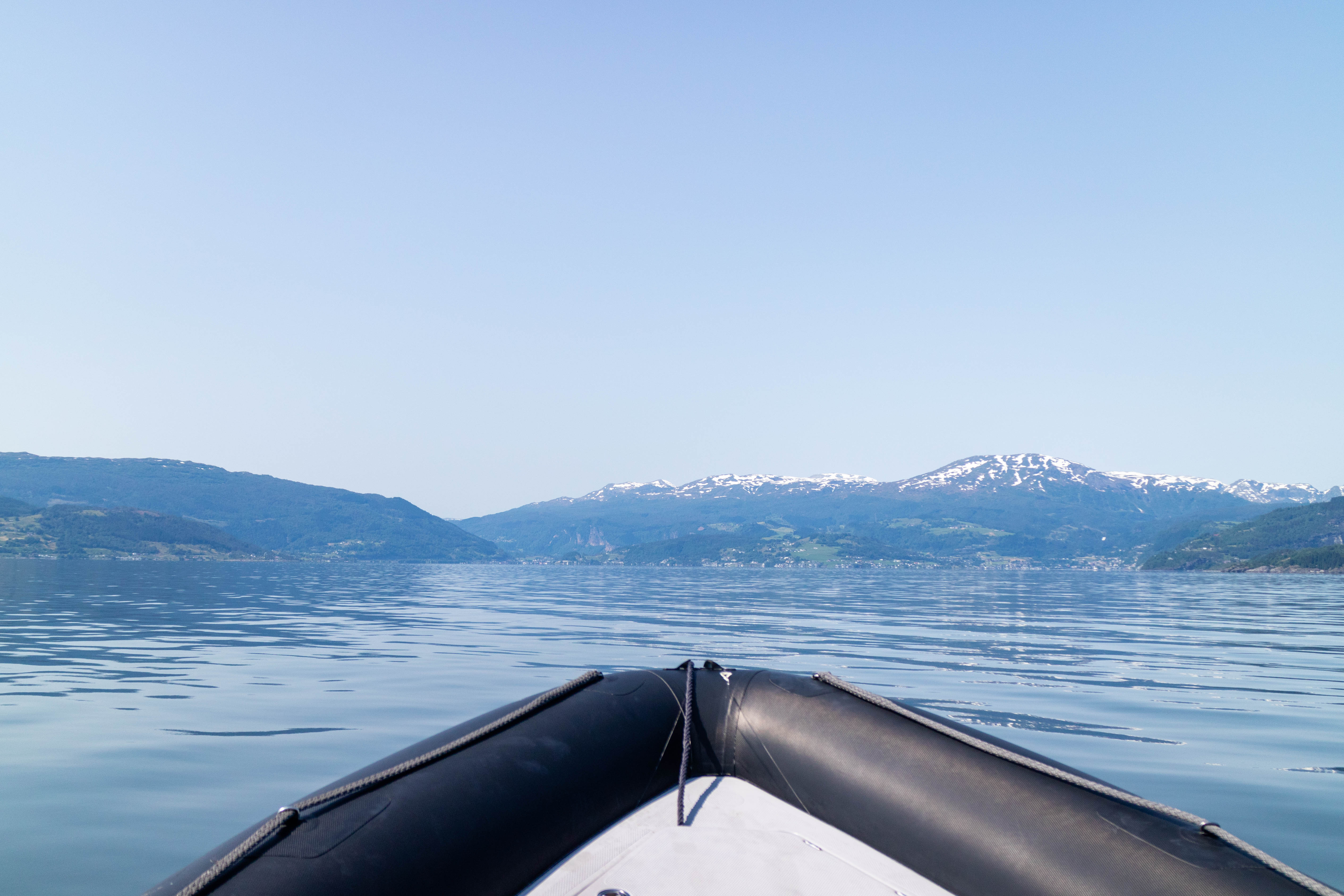 #20 Voss
Voss is known for its extreme sports, and is a haven for those who want to try paragliding, base jumping, rafting and skiing. In the winter especially, the ski resorts Myrkdalen and Voss Resort are busy with skiers, and well worth a day trip if you want to go skiing in the Norwegian mountains.
In addition to this, Voss is a great place to go hiking in the summer, and it is just a 1-hour drive or train ride from Bergen.
The Voss Gondola will take you up to the top of mount Hanguren in just a few minutes, and once you are up there you'll have several great hiking trails available for you.
Below you will find a few more tours and day trips from Bergen to explore:
#21 Gamle Bergen (Old Bergen Museum)
Visiting Gamle Bergen ("Old Bergen") will allow you to truly immerse yourself in the history of the city, and will give you an idea of what it was like to live in this coastal town in the 17, 18 and 1900s.
At Gamle Bergen you will walk alongside actors and hosts from the museum, dressed in period clothing in order to let you relive history.
This is an outdoor museum consisting of cute cobbled streets and 55 historic buildings, most of which were moved there from the city center.
The museum is located a little outside of the city center, about a 40-minute walk from Bryggen. Alternatively, you can reach it by bus (routes 3, 4, 12,19 an 16E all stop by the museum). Simply download the Skyss Ticket app to get your ticket on the go.
#22 Troldhaugen and the Edvard Grieg Museum
It isn't a given that you have heard of Edvard Grieg, but I can guarantee you that you have heard some of his songs, like Morning Mood and In the Hall of the Mountain King.
He was a composer from Bergen and is especially known for those works, even today, over 100 years since he passed (Edvard Grieg lived from 1843 to 1907). His house, which was built for him and his wife and where he lived for 22 years, was called Troldhaugen, which means "the troll hill".
Today, Troldhaugen is a museum dedicated to Edvard Grieg, and the interior of the living room has been kept the same as he left it in 1907. In addition to being a museum about his life, Troldhaugen is also home to the burial grounds for Edvard and his wife Nina.
In the summer months, there are lunch time concerts held at Troldhaugen, and these half-hour piano concerts are the perfect introduction to Grieg's music.
When you visit Troldhaugen, don't miss one of the guided tours of the interior of the house. They last a little under 15 minutes, and let you look at some of the original furniture, and one of Grieg's pianos!
Walking around the grounds is also a must, and you can go down to the waterfront to see the spot in the mountain where Edvard and Nina's ashes were left – in the spot where the evening sun shines the longest (Grieg chose it himself). His composer hut is also on the grounds.
The lunchtime concert lasted around 40 minutes when I last visited (even though they still say half an hour), and was a beautiful experience.
I recommend around 2 hours for your visit, including the concert. If you have more time, visit the gift shop and grab a glass of wine in the cafe.
#23 Gamlehaugen
This is the official Bergen residence of the Norwegian royal family, and in my opinion the most "castle-like" home they have in the country (due to its round tower).
In the summer months there are guided tours of the interior of the residence from Monday through Friday, whilst the large park and beach just below it is open year-round for visitors (free entry).
#24 KODE Art Museums
In the city center of Bergen, you will find the KODE Art Museums. It consists of four buildings next to each other, aptly named Kode 1, Kode 2, Kode 3 and Kode 4.
Each building houses different exhibitions, some permanent and some temporary.
The permanent exhibition in Kode 3 is worth visiting, as it contains the world's third largest collection of Edvard Munch pieces (a Norwegian painter, and the man behind the famous Scream painting).
When you buy a ticket you will gain access to all 4 museums, so make sure to set aside some time for this. You can easily spend all day looking at the artworks and exhibits across the four buildings.
Beautiful parks
There are three parks I think you should know about in Bergen, all of them found in in the center of the city. These are Nygårdsparken, Byparken and Nordnesparken. All three are popular amongst locals, and you'll find them quite busy on warm summer days.
If you are looking for somewhere to relax or take a stroll in Bergen, make a note of these three.
#25 Nygårdsparken
I believe this is the largest park in Bergen, stretching from the top of Nygårdshøyden (by the University and Natural History Museum), and down towards Puddefjorden. There is a small lake at the top of the park, and also at the bottom.
The way this park slopes downhill makes it a good spot for events, and through the summer there are free concerts put on here, for example by the Bergen Philharmonic Orchestra.
There is a kids' playground and a small cafe at the top of the park, open daily in the summer season.
#26 Nordnesparken
At the very tip of Nordnes, just a short walk from Den Blå Steinen and the city center you ill find Nordnesparken. This half-moon shaped park is small, but a nice walk for those in the city center who want to move for an hour or so.
It is located right next to the Bergen Aquarium, so visiting the two with at the same time is a good idea.
#27 Byparken
Last, but not least, Byparken is worth a mention. Byparken means "The City Park", and it is a cluster of beautiful flowers and symmetrical pathways surrounding a beautiful gazebo right in the center of the city.
The gazebo has been there since 1888 and is used for concerts, weddings and photography. There is usually a line of people in front of it waiting to take their photos there, and on weekends in the summer chances of seeing a bride and groom there are high.
#28 The Bergen Aquarium (Akvariet i Bergen)
Right at the tip of Nordnes, by Nordnesparken, you will find the Bergen Aquarium. Together with VilVite (next on the list), it is one of the best things to do in Bergen with children.
The Bergen Aquarium has a large selection of fish and aquatic life from all over the world. In addition to tropical fish and species (such as clown fish, small sharks and dory fish), they also have otters and sea lions, who are always fun to watch.
One of the absolute highlights of the aquarium are the penguins, and I remember how I loved seeing them when I was little.
Throughout the day they have scheduled feedings of some of the animals, so you can learn more about them from the knowledgeable animal keepers that work there.
#29 The Bergen Science Center (VilVite)
The Bergen Science Center is amongst locals known as VilVite, which means "want to know". It is perhaps best enjoyed as a family, but is also fun for adults (I usually really enjoy taking my nieces and nephew there).
This is your traditional science center where fun activities and stations aim to teach you about the world we live in through activities, experiments and other attractions.
There are daily science shows with fires, explosions and gas, which is always a good time. If you are visiting VilVite, make sure to catch one of them.
#30 Fantoft Stave Church
Fantoft Stave Church was actually built in Sogn (where I grew up!) in around 1170, before it was moved to Fantoft in Bergen in 1883. Since then it suffered a devastating fire in the late 1900s, and was rebuilt in 1992.
At the time, this was a really big deal because it was the first stave church to be built in Norway in 400 years!
The church itself is a traditional, dark brown structure with traditional carvings, so it is worth seeing if you aren't able to see any of the other stave churches in Norway during your visit.
Fantoft is a little out of the city center, but with the light rail it isn't too hard to get there. Simply take Bybanen to Fantoft (18 minutes or so), or bus 21 from the main bus station to the stop Fantoft Stavkirke (25 minutes travel time).
#31 Ulriken Cable Car
As mentioned above, Mount Ulriken is my favourite hike in Bergen, and a great workout for those who love hiking.
However, you can also get to the top by taking the Ulriken643 Cable car, which will send you up to 643 meters (2100 feet) above sea level in just a few minutes.
The cable car leaves every 7 minutes in the high season, so you never have to wait in line for long. Then, once at the top you can enjoy the view, grab lunch at the restaurant up there, or walk around some of the hiking trails on the mountain top.
You can also start the Vidden hike by taking the cable car to the top first.
To get to the base station of the cable car (and the start of the hike), you can travel by public transportation or take Ulriksbussen in the summer (100 kroner return). Ulriksbussen runs from just outside the tourist information in Bergen at set intervals (approximately every hour and a half) in the summer season.
Bus 5 and 6 from Festplassen, or bus 12 and 16E from Xhibition will take you to the Ulriksdal bus stop. From there, follow the signs to the cable car (10-minute walk).
#32 The Fish Market (Fisketorget) and Mathallen
Bergen has a fish market right in the city center, that for a long time has been the most important part of the city (alongside Bryggen). This is where locals, traders and fishermen from the area have been meeting for centuries, to trade goods and seafood.
In recent years, an indoor market has popped up as well, right next to the original fish market. Mathallen is found in the same building as the Bergen tourist information (the tourist information is on the second floor, the food court/fish market on the first).
Thanks to Mathallen the fish market is now available year-round. The outdoor fish market usually starts in early May each year, running until late August/early September.
#33 Heit Sauna
I did this for a friend's birthday one summer, and it was so much fun.
You know I love FjordSauna at home in Flåm, and I was very excited to find that there is a floating sauna in Bergen as well! At Heit, you (and your group) can spend some time in a privat sauna, with the refreshing Puddefjorden just outside the window.
You can either rent it privately for your family or group, or get a drop-in ticket for just one person in a shared sauna. Regardless of what you do, there is nothing more Nordic than mixing the cold water with the hot sauna benches.
My personal tip: hike Ulriken (or any other hike), and finish the day off in the sauna! That's how I would spend a Sunday 🙂
#34 The Leprocy Museum (Lepramuseet)
Did you know that Bergen is a city of pretty decent importance when it comes to the history of leprosy?
I know I didn't until I moved here. But actually, between the years of 1850 and 1900 there were three leprosy hospitals in the city, and the largest concentration of people living with leprosy in Europe was in Bergen.
In addition to this, Gerhard Armauer Hansen discovered the leprosy germ in Bergen in 1873!
The more you know, hey?
The Leprosy Museum is the former St. Jørgen's Hospital (one of the three hospitals), and will give you a glimpse into what it was like to live there, and teach you more of Bergen's role in this area of medical history.
The museum consists of 9 protected buildings and is one of the best kept leprosy hospitals in Europe.
#35 The Hanseatic Museum
The Hanseatic Museum and Schötstuene will give you a closer look into life for the Hanseatic merchants and sailors during Bergen's glory days. Between the years of 1360 and 1761 Bryggen was a thriving community, and a guided tour through these buildings is highly recommended.
Located in Bryggen, the buildings are historic, and come alive during great guided tours offered by the museum. Tours are offered in English daily in the summer, and on weekends during the winter months.
#36 Bergen Maritime Museum
If you are curious about Norway's history of seafaring through the centuries, the Bergen Maritime Museum should be on your list.
They have a large collection of maritime items, such as full-scale boat models, archeological findings, and smaller boat models – all to give you an idea of how important the ocean has been to Norwegians through history.
One of the highlights here is the 22-minute long movie called The Burnt Ship (in Norwegian with English subtitles), focusing on the findings of a burial ship from the Viking Age.
Side note: If this fascinates you, don't miss my guide to the most famous Viking symbols and their meanings.
#37 The Natural History Museum
The Natural History Museum of the University of Bergen is a great museum with dedicated areas for botany, geology and zoology.
The famous Hvalsalen ("the whale hall") is perhaps one of their most famous rooms, where they have the skeletons of massive whales hanging from the ceiling.
Amongst their permanent exhibitions, they have one focusing on the depths of the ocean, and what is yet to explore in the big blue world.
There is a cafe at the University, where they serve baked goods from Godt Brød (a Norwegian bakery), and it overlooks the museum gardens. It is a lovely place to grab lunch after exploring the museum.
Read later: The best cafes in Bergen, Norway
#38 A Hanseatic-themed Escape Room in UNESCO Listed buildings
One of my favourite things to do in Bergen is not necessarily a "typical" tourist attraction. At the time of writing, I have completed all Escape Rooms at Escape Bryggen, and I am waiting for them to update and create a new one.
But, assuming you haven't been to Bergen before, you won't have completed their rooms like me. And so, you need to add their Hanseaticus Escape Room to your list.
Escape Bryggen is actually located inside one of the UNESCO World Heritage protected buildings at Bryggen, and just upon entering you'll notice that nothing in the room is even.
This makes for such a moody and unique experience, and the fact that their escape room is Hanseatic-themed makes it even more fun.
This is a truly unique activity for Bergen (I don't think you'll find a Hanseatic-themed escape room anywhere else in the world, and definitely not one in historic wooden buildings like this).
#39 Explore Nordnes (beautiful wooden houses – old town style)
Bergen may not be known for having a large old town like other Norwegian cities (such as Stavanger), but there is actually a small area of Bergen where you can walk through quaint cobbled streets past cute white wooden houses.
This area is called Nordnes, and it is the "tip" of land that juts out between Vågen and Puddefjorden (both bodies of water).
So, if you want to explore some of these charming streets and houses, simply set aside an hour to stroll through the area of Nornes (just west of the main square Torgallmenningen and Den Blå Steinen).
The street that is perhaps most picturesque is Ytre Markeveien, so make sure to head there for a great photo op.
#40 Street Art
You may not know it, but Bergen is actually home to some of the best street art in Norway!
With over 200 unique pieces of street art scattered around the city, you'll come across these by just walking from one attraction to the next.
But, if you are a street art fanatic, and want to find the best art pieces around Bergen, you're in luck. There are luckily maps online where you can find all of them marked with a pin.
My favourite is a large mural in Lars Hilles Gate, just a short walk from the Nygård Light Rail stop, that is not to be missed if you love street art.
#41 Go on a walking tour
There are many great walking tours in Bergen, and most of them will take you to and around the historic Bryggen, and tell you all about the city's Hanseatic history. Find some of my favourite walking tours below, both private and in groups, below.
#42 St. Mary's Church (Mariakirken)
Just behind Bryggen and Bryggens Museum, you will find Mariakirken – which is not only the oldest parish church in Bergen, but also the best kept building in the city.
The church dates back to 1130-1170 when it was built, and has been in continuous use since the Middle Ages.
It is worth visiting if you love old buildings and beautiful churches. One of the more interesting things about it is that the pulpit contains turtle skin! This is quite unique for Norway, and implies that the pulpit (or at least the materials) has travelled quite far before settling in Bergen.
#43 During Christmas: The World's Largest Gingerbread City
From late November and through December, there is a really fun attraction in Bergen that is an absolute must-see. Pepperkakebyen ("the Gingerbread City") is actually the world's largest gingerbread city, and it is built in Bergen every single year!
The houses, buildings and creations that make up the city are made and donated by schools, kindergartens and work places from all around Bergen (and even from outside of Bergen). The pieces are then meticulously put together, to make for a truly unique experience.
The gingerbread city has changed locations in recent years, but is always in the city center of Bergen. It is open daily from mid-to-late November, and until the 31st of December (with the exception of Christmas Day). Tickets cost 150 kroner, and I strongly recommend you include this on your list of things to do in Bergen – it is such a unique sight (and it smells amazing).
#44 In June: Bergenfest Festival
Another time-dependent item on the list. If you are a music lover and you are visiting Bergen in June, you'll be excited to learn about Bergenfest.
Bergenfest is the largest music festival in Bergen, stretching across 4 days around mid-June every year. The festival is truly unique because it is located at Bergenhus Fortress. Getting to enjoy live bands playing whilst in a historic location with medieval walls surrounding the festival area is something you might not be able to experience anywhere else in the world (that I know of).
They usually draw a mix of Norwegian and international artists, across all music genres. Past artists at Bergenfest include First Aid Kit, Zara Larsson, A-ha, Bon Iver, Patti Smith and Lucas Graham.
#45 Rent a SUP / Stand up paddleboard
At the local city beach in Bergen you can rent paddleboards surprisingly cheap. Starting at 200 kroner (around 19 USD) for an hour and getting cheaper the longer you rent for.
The rental is located here, right by the beach (and the bridge "Lille Puddefjordsbroen"), and is a super easy way to access a SUP.
Simply head to their website to book and pay for your rental, and pick it up at the locker! Then you're free to explore the Puddefjorden ("Pudde fjord"); the mini fjord in Bergen.
---
More Bergen Tips
There you have my top recommendations for things to do in Bergen, a list that I have spent years curating (and will keep adding to). I love this city so much, and I am sure you will enjoy exploring it as much as me.
Where to eat in Bergen
Now that you've gotten a pretty decent idea of the best things to do in the city, you may be wondering where to eat. Luckily, I have written a complete guide to the best restaurants in Bergen here, but I will also list a few of my favourite restaurants below.
Bryggeloftet: Bergen's oldest restaurant serving traditional Norwegian food and the best steak in the city.
Enhjørningen: Located in historic rooms behind Bryggen, known for their seafood and the traditional Bergen fish shoup.
JAJA: One of my favourite restaurants with an ever-changing menu focusing on international street food.
Poca Madre: authentic Mexican food paired with great margaritas and cocktails.
Pergola: more of a wine bar than a restaurant, but with great pizza nonetheless, and the largest wine cellar in the city.
Boccone: my favourite Italian restaurant in Bergen.
Where to stay in Bergen
Bergen is home to many great hotels, but I have listed some of my favourites below. I have stayed at all of these, and gladly recommend them all. Hotel Norge is my personal favourite, both in terms of amenities and location, but they are all great!