I've lived in Bergen for years, and the question I am most asked is where I recommend people go out to eat in the city. There are lots of great restaurants here, but if you only have a few days in the city before heading off to explore the rest of Norway, I understand that you'd want to eat at the best restaurants in Bergen.
This guide has been years in the making, as I started researching it the second I moved here in 2018. Since then, it has been sitting in my drafts, getting longer and longer, as I would add a new section every time I tried a new restaurants.
Now, my list of the best Bergen restaurants has become quite extensive, and I struggled a little with how to structure it. However, I think I have managed pretty well, and made a list of my favourites to begin with (aka which places I think are the best restaurants in Bergen), and then separated the rest by cuisine or dining style.
If you are looking for something specific, such as where to eat the traditional Bergen fish soup, where to get the best traditional Norwegian cuisine or just the best restaurants in the city (according to yours truly), use the table of contents to navigate.
I hope that will make sense to you, and that you can use this guide to find out where to eat in the city – regardless of whether you just want the best of the best, or if you are looking for something specific (such as a historic location, the only tex-mex in town, or my favourite spot for brunch).
Not looking for dinner, but somewhere to grab a coffee or simple lunch? Then my guide to the best cafes in Bergen is what you need!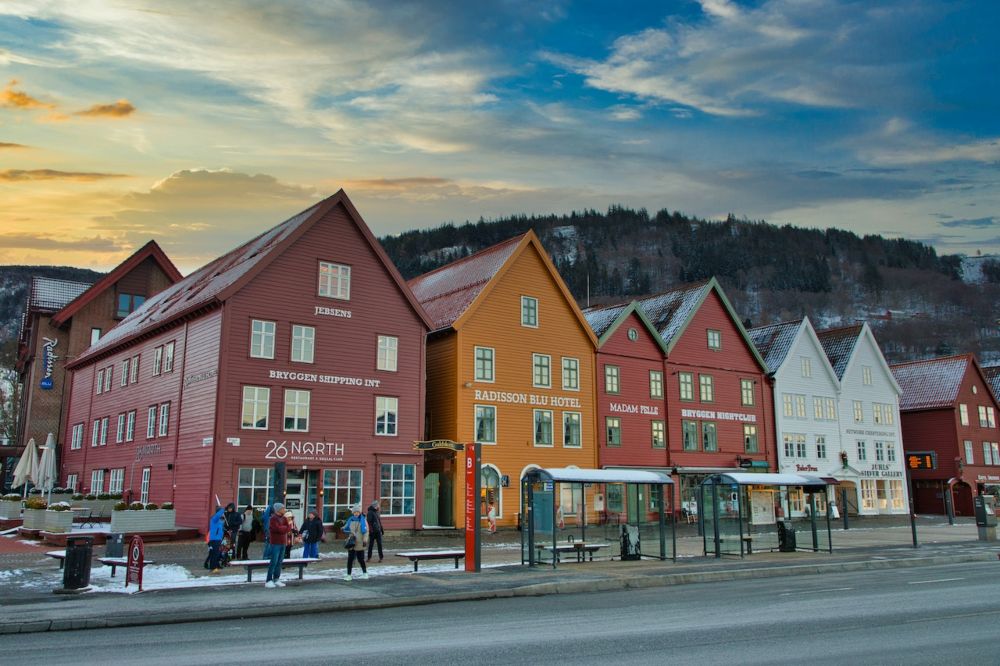 Quick Bergen Travel Guide
Where to stay: Hotel Norge is a centrally located, luxury hotel that is perfect for any traveler – and my favourite. If you are looking for something in the historic city center, Clarion Havnekontoret is just a stone's throw from the UNESCO-listed Bryggen. For something more budget-friendly CityBox and Moxy are great alternatives!
Where to eat: I have so many favourite restaurants in Bergen, and have covered them all in this guide. Don't miss Bryggeloftet (traditional, Norwegian), Poca Madre (Mexican), Boccone (Italian) and JADA (International Street Food).
Top activities and tours in Bergen:
Seeing the UNESCO listed Bryggen (on your own or on a walking tour)
Hiking or taking the funicular up Mount Fløyen
Read all the best things to do in Bergen here!
Packing for Bergen: My golden rule when packing and dressing for any destination in Norway is layers. Layers, layers, layers – and Bergen is no different. Additionally, Bergen can be quite a rainy city, so a waterproof jacket such as this one is ideal. Good shoes for walking around the city is a must too (the city is very walkable).
Getting to Bergen: I have covered how to get from the airport to the city center in detail here.
The 11 Best Restaurants in Bergen, Norway
As mentioned, I am starting this restaurant guide off with the top 10 restaurants in Bergen, before moving on to the ones that didn't quite make it to the list (but are still some of my favourites). The reason I did it this way was so that the top 10 list would have a variety of cuisines and styles on it, instead of 4 Italian restaurants in a row.
At first I was planning on numbering these to keep them in order of which I liked best, but as I was writing I realised this just wasn't possible. So, without further ado, here are the 10 best restaurants in Bergen in no particular order.
#1 Bryggeloftet & Stuene
This is the oldest restaurant in Bergen, with a history dating back 100 years. It is family run, and tradition is truly seeped in the walls. Bryggeloftet has actually been run by the same family since 1910!
It is located along the docks at Bryggen, in an old building with dark wood details and an a very homey atmosphere. The restaurant is split in half, with the upper level being Bryggeloftet, which is the part/restaurant I recommend.
Downstairs is a little more relaxed, with an outdoor seating area that's usually filled with locals who have been coming here for years. It's a good spot for lunch, but don't miss out on having dinner at Bryggeloftet on the second floor.
They serve traditional food, and the menu includes several types of fish, and steak of beef, reindeer, duck and even grouse. The steak is my favourite here, and I always order it when I go – trust me on this.
One of the reasons I am always so impressed with Bryggeloftet is that they really know what they are doing. I have been there in a large group, with everyone ordering a different steak, cooked in different ways, and with different sauces and potatoes. And the chefs and servers at Bryggeloftet get it 100% right every time.
My go-to order is steak of beef with port wine sauce and potato au gratin, but their reindeer steak is also to die for. So good!
In addition to this, I have learned that the servers really know what they are talking about when it comes to wine, which (as I'm sure you know), is important to me. I love my wine, and have written wine guides to several places I have visited (such as Vienna!). So having a server who can give you great advice on this always makes me happy!
On my most recent visit, my parents and I were lucky enough to have Inger as a server. She is a staple at Bryggeloftet, and has worked there since 1980! Considering I have been going there regularly since I moved to Bergen in 2018, that was quite exciting.
Address: Bryggen 11
#2 JAJA
JAJA opened after I moved here, right around the corner from my apartment. The restaurant is inspired by international street food, and so if you love trying foods and flavours from all over the world, you'll love it here.
Whilst it is a new contender on the Bergen restaurant scene, JAJA didn't take long to become known amongst most locals. With a menu that changes every third month or so, you never find yourself tiring of the same dishes, even if you live close to the restaurant like me.
The dishes are meant to share, and so you get to sample a variety of what they have. I recommend 3 dishes for 2 people, or 5 dishes for 3 people. Amongst my favourites (all though they change them out, some staples tend to come back in different form) are the steamed bao buns and the JAJA tacos.
They usually have a mix of meat, seafood and vegetarian dishes, which is great if you have a friend group who all like different things.
Side note: the South African house red is great too!
Find JAJA at Danmarks Plass, which is a 7-minute ride on the Light Rail ByBanen from the city center.
Address: Solheimsgaten (same building as Citybox Danmarks Plass)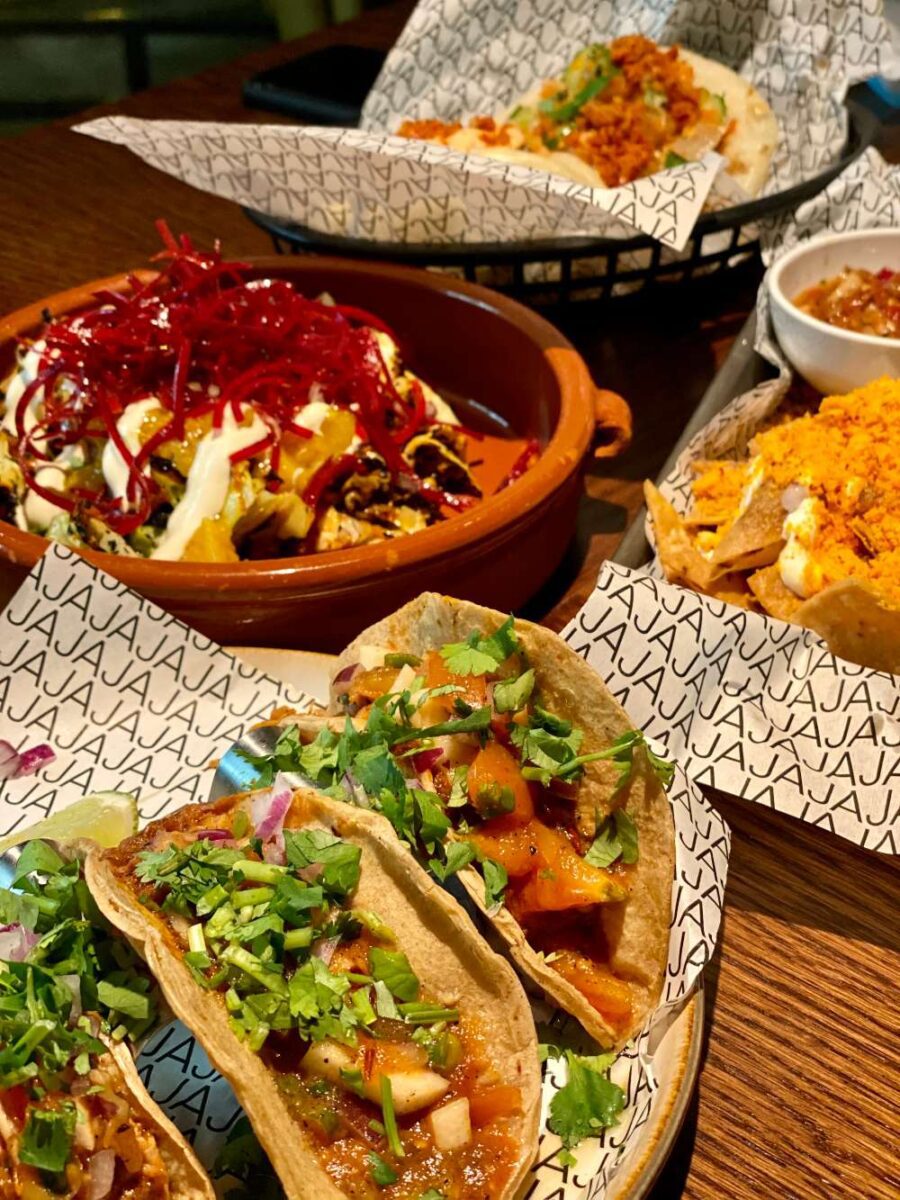 #3 Pergola
If people have only one night in Bergen and wonder where to go eat, Pergola has been my go-to recommendation for years.
This charming Italian wine cellar is located down a narrow alleyway that they have decorated with laundry hanging out to dry on laundry lines above your head, making it feel like you are walking around the streets of an Italian town instead of the second largest city in Norway.
The cozy decor and ambiance is only parts of why I love this restaurant so much. Pergola is very homey and having an intimate atmosphere (it is a small restaurant with just 13-15 tables in my estimate – all spread out around the wine cellar.
But in addition to this, I need to point out the wine cellar itself. They have over 350 wines to choose from, and what I believe is Bergen's largest wine cellar! So obviously, it's the best restaurant in town.
The menu is simple, but really good. It's all about the wine here, so your options for what to eat are as follows: pizza or a charcuterie board.
They always have a rotating selection of pizza toppings available, that change depending on what ingredients they have. When I go with a friend group, we will usually just get a variety of pizzas for the table and share.
If you love charcuterie boards, you'll be happy to hear that these come in several sizes, depending on how many people are in your group. So if you just want some snacks with your wine, you can order up some cheese and meats to share as well.
Address: Nedre Korskirkeallmenningen 9B
#4 Røyk
Røyk is a BBQ restaurant for all the meat lovers out there. Røyk is a Norwegian word that literally translates to smoke, and that's pretty much the epitome of what they do.
Røyk serves American BBQ and street food, all smoked in-house in their smoker (is that a word?). From ribs to briskets and hot wings, you'll find most types of BBQ meats here – and it's all really good.
Their burgers are great, and don't miss out on their blue cheese burger if you (like me) love cheese.
A bonus is their in-house bar, Ginial, which is a gin bar where they have gins from all over the world. I always order an Aviation Gin Tonic, simply because it's Ryan Reynolds' gin company.
Address: Vaskerelven 6
#5 Poca Madre
Poca Madre were bold enough to open during the pandemic, and I was actually invited for the opening (which was fun)! As a result, I got to sample a bunch of their dishes, and so it was an easy choice to add them to my list of the best restaurants in Bergen.
At Poca Madre they serve authentic Mexican food, which is completely different to the Mexican food that has (popularly) made it across the ocean to Norway and Europe. On the menu here you will find dishes such as Tamal (corn dough filled with chicken in green salsa) and Lamb Birria (a lamb dish from Jalisco in Mexico), and not a whole lot of burritos and tortillas (however they do have yummy single tacos on the menu).
The keyword here is authentic, and Poca Madre uses ingredients from Mexico, in addition to having (as they told us) "7 Mexicans working and cooking in the kitchen". They make their tortilla chips themselves, and the tortilla soup was one of my favourite dishes to try.
The chef on the night I visited, Eduardo, told us that his mum used to make soup like that. He also said (verbatim) when we complimented him on one of the dishes that he "didn't want to do anything fancy about it". So at Poca Madre you are truly getting that home-cooked authentic feel of what Mexican food should be like.
I want to leave it with a side note about the cocktails, because you know I had to try a bunch of those as well. I am not a huge tequila person, but loved the margaritas (we tried several) here. Their bar manager has apparently previously worked at the Alchemist in Birmingham, and how they got him to move to Bergen I have no idea. But the drinks here are worth the visit, even if you aren't hungry for food.
Address: Skostredet 14
#6 Boccone
Italian is my all time favourite cuisine, and whilst Pergola (above) is one of my favourite restaurants in Bergen for the atmosphere and wine cellar alone, Boccone is my favourite restaurant for the food.
This Italian restaurant is located right by Den Blå Steinen, in the city center of Bergen, on the side of the beautiful Hotel Norge (one of my favourite hotels in Bergen).
I love the interior at Boccone, as it reminds me of a luxurious, upscale Italian villa. Instead of having a large menu, they have opted to make fewer dishes, but with more of an eye for detail (quality over quantity, in other words).
My favourite dish here, and my go-to order for takeaway on a Sunday, is the Creamy Ravioli, which is just a cheesy garlic heaven. But the cannelloni and the pizzas (made in a stone-oven of course) are also great.
Tuesday special: On Tuesdays only, you can go to Boccone and order their truffle pasta served from a Grana Padano wheel! I finally did this recently, and it didn't disappoint. Check out my Instagram reel of the experience here!
Address: Nedre Ole Bulls Plass 4
#7 Cartel's
Cartel's is a Latin American restaurant and bar, with a fun and relaxed vibe perfect for dinner with friends.
On the menu here you will find fajitas (the chicken fajitas are great!), hamburgers (love the Brasileiro), yummy starters (I recommend the coxhinas), and of course lots of great meats. From Tenderloin with mezcal butter to chorizo-spiked cod, you'll find a Latin American twist to your favourite dish here.
Don't miss the cheesecake balls for dessert. They are so yummy! Ask to get two of each (one serving is 4 pieces), so you can try both the light and the dark ones. One of the best desserts in Bergen, hands down.
Their drinks are great too, both the rum and tequila based ones.
Address: Neumanns Gate 25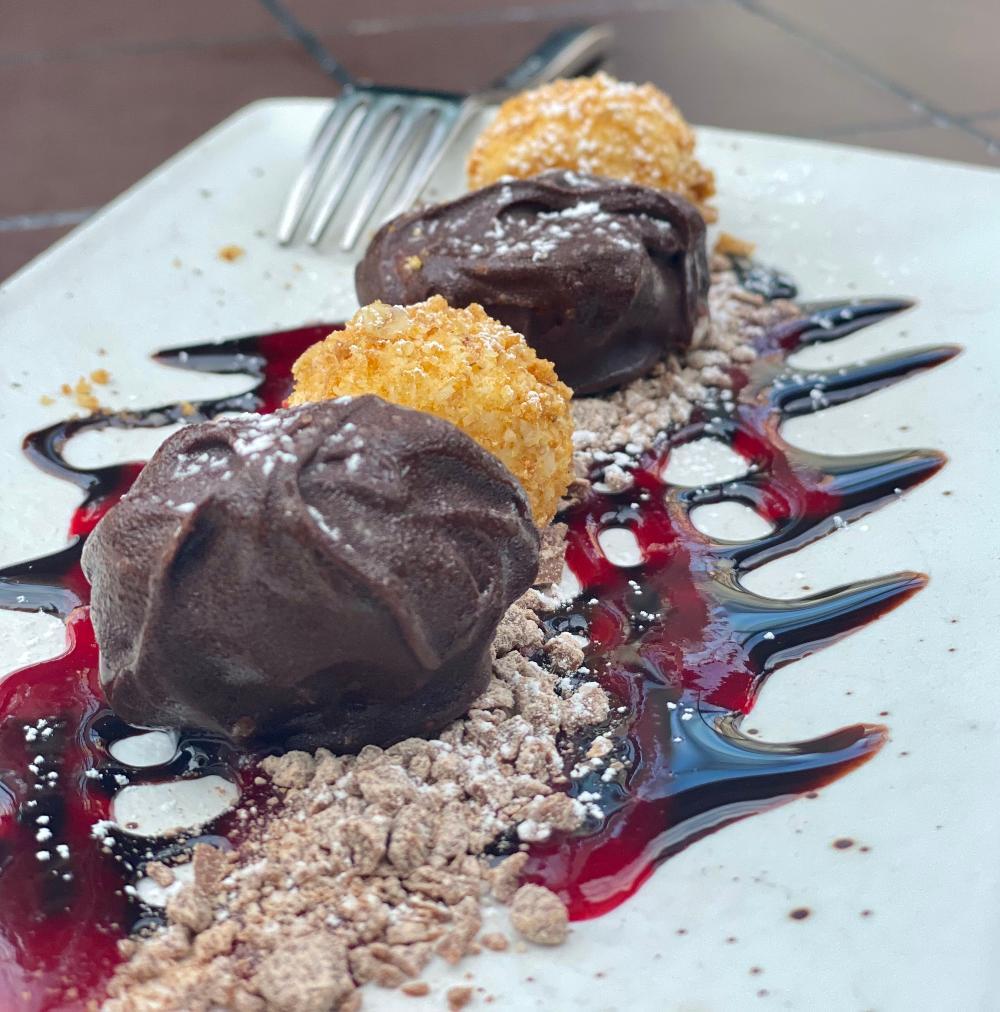 #8 Bien Snackbar
Bien has four restaurants with different themes across Bergen: Bien Snackbar, Bien Centro, Bien Izakaya and Bien Basar. However, the one that easily makes this list is their most relaxed one: Bien Snackbar.
This informal and small restaurant on the corner of Fjøsangerveien (just a stone's throw from the Danmarks Plass Light Rail stop) has won several awards for having the best burger in Bergen. And that's the reason it's on the list.
If you are looking for the best burger in town, head to Bien Snackbar. In addition to a menu consisting of juicy hamburgers and cheeseburgers (obviously the blue cheese one is my fave), they serve yummy milkshakes and truffle fries I'm obsessed with.
Top tip: the Light Rail ByBanen goes all the way from the city center to the airport in Bergen, and the Danmarks Plass stop is on the way. So, if you have a flight out of Bergen, consider getting on the light rail a little early, and stopping at Danmarks Plass to eat at Bien on your way!
Address: Fjøsangerveien 30
#9 Frescohallen
Frescohallen has made it to the list much because of the interior of this place. The food is also great, of course.
The name itself derives from the room this restaurant is based in: the former stock exchange in Bergen, with beautiful painted frescos on the walls and ceiling. The result is a really great dining experience where you have to work hard to focus on your food and not the interior of the room.
Frescohallen focuses mainly on seafood, which is the cuisine Norway is known for, but they also have some vegetarian and meat dishes. My personal favourite (and the only place in Bergen where I've found this dish) is the truffle pasta.
Address: Vågsallmenningen 1 (same building as the Bergen Børs Hotel, just across the road from the fish market)
#10 Maharaja
My sister loves Indian food, so that's what we often end up eating when she visits. Out of all the great Indian restaurants in Bergen (another good one is Arti Indisk), is Maharaja.
Here you will find traditional Indian food using local ingredients, and have been a staple for Indian food in Bergen for 15 years! Over the years the menu has grown, and today, they have pages and pages of dishes to choose from.
One thing I love about Maharaja is that in addition to traditional currys, tikkas and tandooris, you will find Indian street food on the menu. This is something I had never tried before going here for the first time, and that I highly recommend.
My favourite thing about their menu: the snarky comment below the Nan heading begging Norwegians to please stop calling it "nan bread" – because you are literally just saying "bread bread". The people of Maharaja are doing important work in teaching us to do better.
Regardless of whether you find that as funny as me or not, Maharaja is a great restaurant with friendly staff and a lively atmosphere. If you are craving Indian food whilst in Bergen, make sure you add it to your plans.
Address: Rosenkrantzgaten 5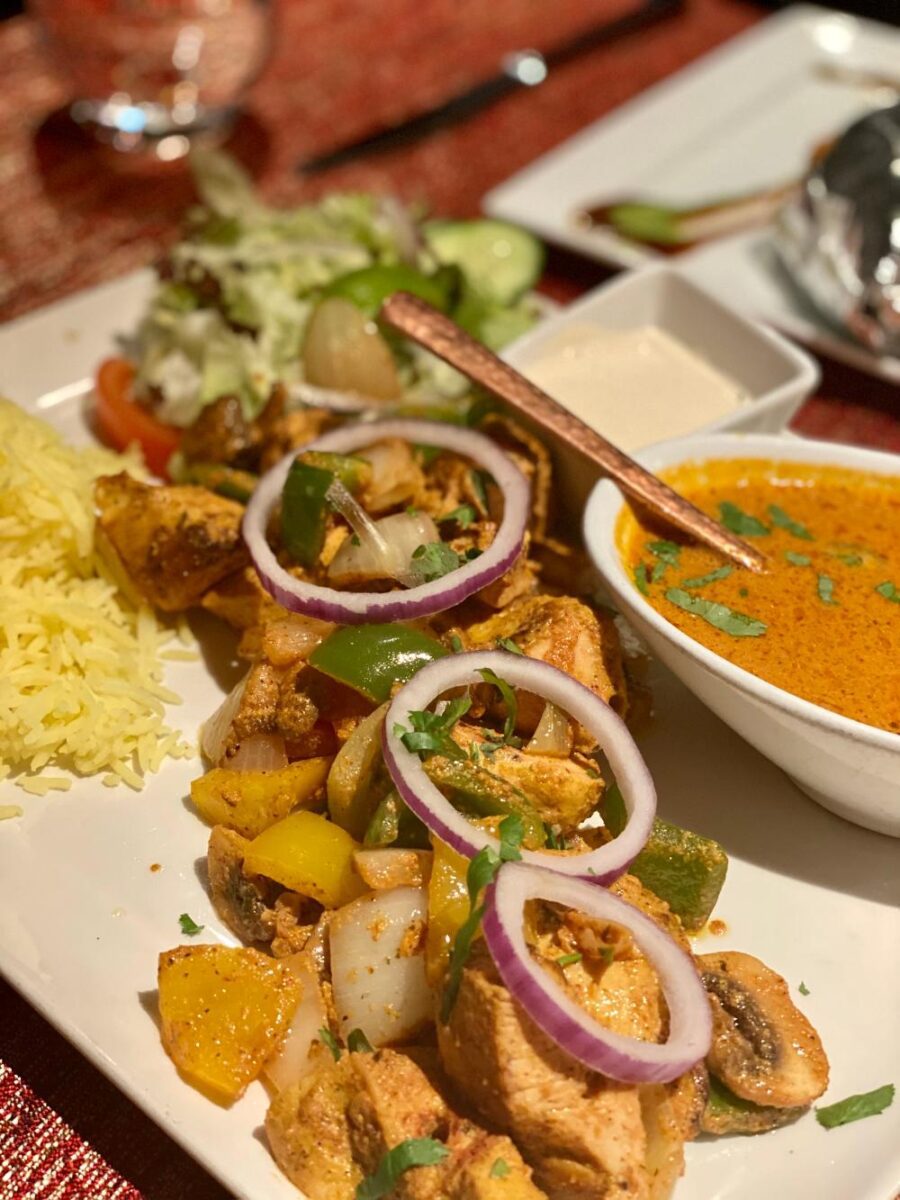 #11 Le Mathis
Le Mathis is the most recent addition to the list, as it opened in 2023 – right in the middle of Skostredet (a really cute street where you can also find Poca Madre and Pergola that I have mentioned on this list).
This is a French restaurant specialising in French food. From coq au vin and mobiles frites to entrecôte with fries (and no vegetables).
I loved the interior at Le Mathis. The atmosphere was relaxing, and the decor was upscale and delicate, making me feel like I was in a much more expensive place (not that Le Mathis is cheap, as we are still in Norway). Think velour couches, lots of mirrors, and dark blue and black details.
The staff were friendly and helpful, and we even had the chef come out and tell us (regarding the steak) "I won't cook it medium rare or medium, I'll cook it perfect". I personally loved this, but I am sure you'd be allowed to insist if you really want your steak a certain way.
The only drawback I'll point out was that we waited a little while for food (around 30 minutes). However, the bread was great and the atmosphere lovely, so we weren't overly bothered by this during our meal. I'll be sure to go back!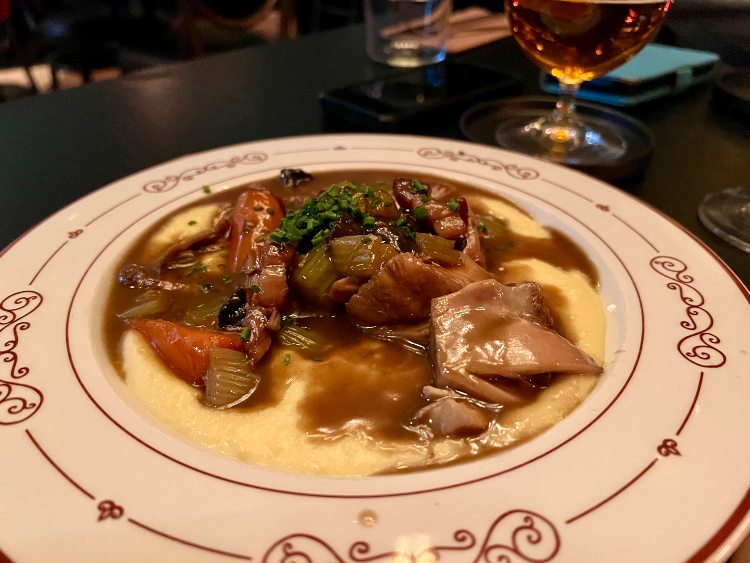 The Best Seafood Restaurants in Bergen
Whilst Frescohallen above does focus heavily on seafood, I know a lot of people visit Norway and Bergen looking to try some of the locally caught fish and seafood from the region. One of the most popular things to do in Bergen is visit the fish market, and historically fishermen and traders from all over Norway have come to the docks here to trade and sell their fresh catches.
So, it is no surprise that you are looking for a seafood restaurant whilst in the city. The traditional Bergen Fish Soup (a creamy fish soup, often with pieces of salmon and cod) can be found in several restaurants around the city, but below I have listed the top three seafood restaurants where you can find it. Do note that the first one isn't quite a restaurant, but worth a visit nonetheless.
Fisketorget / The Fish Market
Obviously the Bergen Fish Market had to be on the list, as it's a city staple for seafood. If you want to try fish nuggets, burgers, and other seafood snacks, spend an hour or so strolling through the fish market, located right on the Bergen harbour.
The market has traditions dating back to the 1200s, and is now open year round. This is thanks to the new building Mathallen that opened in 2012, where there is an indoor market 12 months of the year. On the second floor of this building you will also find the Bergen tourist information, in case you need to pick up some maps or get directions during your visit.
Address: Torget 5
Søstrene Hagelin
Right in the center of Bergen you will find Søstrene Hagelin ("the Hagelin sisters"). The sisters in mention are actually from the inner Sognefjord area where I grew up (Sogndal, to be exact), which makes this even more fun for me to include here.
Søstrene Hagelin is a very informal restaurant, and they are most famous for their fish soup. It has been made according to the original recipe from their hometown, dating back to 1929 when they first moved to Bergen.
In addition to the fish soup, they have fish cakes, crab cakes, and pretty much anything you can think of when it comes to fish.
Fun fact: the former King of Norway (King Olav) was always sent fish cakes from the sisters when he stayed in Bergen during his reign.
Address: Strandgaten 3
Enhjørningen
Known as one of the best seafood restaurants in town, Enhjørningen is located in one of the charming wooden buildings along Bryggen – the docks.
Here, you will find high-quality seafood, and a menu that stays up to date according to the freshest catches the fishermen bring in. The rustic interior and classic decor makes you almost feel like you have travelled back in time to when Bryggen was the center of the city.
Those who want to try something unique whilst in Norway will have to consider their whale carpaccio or the traditional Norwegian lutefisk (dried and salted cod stockfish from Lofoten).
Address: Enhjørningsgården 29
Fine Dining Restaurants in Bergen
Moving on to another topic that I thought deserved its own heading here: fine dining. Bergen is perhaps not the first city that comes to mind when you think of fine dining and fancy restaurants, but the city actually holds its own here!
You might be surprised to hear that Bergen actually has two Michelin star restaurants at the moment. One of them is Bare, which I will mention below, and the other is Lysverket.
Another unique restaurant worth mentioning here is Cornelius, which inspired the 2022 movie The Menu. According to Visit Norway, co-writer of the movie Will Tracy went to Norway on his honeymoon and visited Cornelius Restaurant during his trip.
The restaurant is located on a private island outside of the city, and you are transferred there by boat. Of course, I don't think you have to worry about any of the horror aspects from the movie coming true there, but it's still a pretty cool fun fact.
Marg & Bein
If you want a fine dining experience that is also relaxed and slightly informal, head to Marg & Bein. This New Nordic restaurant serves 4 to 8 course set menus inspired by local produce and Nordic ingredients.
When I was there, we had the 8-course menu (with matching wine pairings, of course), and it was a really great experience and meal.
Marg & Bein translates to "Marrow & Bone", and that gives you a hint of their food philosophy. They focus on tail to tongue dining, meaning they will use every part of the animal and not let anything go to waste.
Their specialty is, as you may have guessed, bone marrow.
Address: Fosswinckels Gate 18
Moon
Whilst Moon does not have a Michelin star, it is listed in the Michelin guide next to Bare and Lysverket. This is a French bistro serving French and international dishes.
They use local ingredients in their cooking, and their set menus will blow you away with how they have mixed French traditions with Norwegian produce and styles.
It is run by twin brothers Jules and Nicolas, with the latter also being the Moon sommelier. The wine pairings with the set menu are not to be missed.
Address: Marken 33
Bare (Michelin)
Bare is all about the Norwegian and local ingredients, and this is evident just by looking at their menu. Scallops from Øygarden (outside of Bergen), duck from Vestfold (in eastern Norway) and deer from Fusa (near Bergen) are amongst the dishes you can expect here. In addition to their own branded kaviar.
Bare was the second restaurant in Bergen to receive a Michelin star, in 2022, something that had been in the cards for a while.
The restaurant is located inside the Bergen Børs hotel, in the historic building that used to be the Bergen stock market. Their bar, with its impressive mirror decorations, is worth seeing on its own. This is the room where the most important meetings of the stock market were held.
Address: Torgallmenningen 2
New Nordic & Traditional Norwegian Cuisine
New Nordic is an up-and-coming school of cooking rooted in traditional Scandinavian cuisine, and Bergen (in addition to Oslo, of course) is a great place to try it. Therefore, I thought it would be great to include a section explaining what New Nordic cooking is, as well as suggesting a few places you can try it. And where you can get more traditional dishes, of course.
Norwegian and Scandinavian cuisine has for a long time been characterised by traditional, meat-focused meals, usually with a side of potatoes and carrots (vegetables grown underground being the easiest to come by in colder climates).
If you are looking for traditional Norwegian cuisine, head to Wesselstuen (Øvre Ole Bulls Plass 6), To Kokker (Enhjørningsgården 29), Dr. Wiesener (Nye Sandviksveien 17A), Restaurant 1877 (Vetrlidsallmenningen 2) or Bryggeloftet (as I have included in my top 10 restaurant list).
In addition to traditional dishes being popular in Bergen, recent years have seen the emergence of a branch of Scandinavian cuisine named "New Nordic."
In short, New Nordic cuisine endeavors to preserve the traditions of Scandinavian cuisine whilst bringing in innovative approaches from modern chefs. The focus is still very much on simplicity and functionality, buzzwords when it comes to most things Nordic and Scandinavian, and making the most of local nature and the produce.
New Nordic restaurants serve traditional dishes like salmon, meatballs (kjøttkaker), and reindeer, but instead of the traditional sides of potatoes and carrots, you might find whipped cucumber, steamed asparagus and crème fraîche mousse.
Another tradition from Nordic cooking seen in New Nordic cuisine is the idea of making use of as much of an animal as possible when cooking, also known as "nose-to-tail dining." Therefore, do not be surprised to find moose tongue or even bone marrow on the menu in some of the fancier restaurants serving New Nordic Cuisine.
Both Marg & Bein and Bare above focus on the New Nordic style of cooking, and are great places to try this cuisine. IN addition, consider Bjerck (Torgalmenningen 1A) or 26 North (Dreggsallmenningen 1).
My Favourite Italian Restaurants in Bergen
In addition to Boccone and Pergola, both of which made it to the top 10 restaurant list above, I have a few other Italian favourites in the city. As this is my favourite cuisine, I tend to frequent these restaurant more often than any others on the list.
The three restaurants below are all great Italian restaurants in Bergen.
Villani
Villani is usually quite busy, as it is located in the "restaurant street" Skostredet, where you will also find Poca Madre and Pergola listed above.
It is a great Italian restaurant, with a slightly Sicilian theme (in my opinion). You will feel as if you have walked straight into Italy when entering the doors. The restaurant is large, and seats quite a few people.
On the menu you will find the "usual suspects" when it comes to an Italian restaurant: pizzas and pastas, and some great wines. Staff are friendly and welcoming, and you can easily spend an entire evening chatting away here.
The best thing about Villani is their outdoor seating area (open in the summer months). Their patio is the perfect place for an Aperol spritz and some focaccia, and it is worth the extra wait to be seated here.
Address: Skostredet 9a
Olivia
Now before you protest, let me be clear: I am aware that Olivia is a chain restaurant. In fact, I dare be so bold as to say that Olivia is the only chain restaurant in Norway that actually does a good job.
There is only one Olivia in Bergen, and it is located right on the docks next to the fish market. This large restaurant covers two floors, and like Villani they have a nice outdoor seating area.
Olivia is the place to go if you are craving Italian and are with a large group of friends. They have a big menu, so everyone is guaranteed to find something they want (whether that's an entrecote, a wood-oven made pizza or a classic pasta di manzo).
Address: Torget 2
Villa Paradiso
Villa Paradiso opened in Bergen in March/April 2021, after seeing a lot of popularity in Oslo. In fact, I would even go as far as saying their Grünerløkka location serves the best pizza in Oslo.
In Bergen, I am afraid I can't say the same. Whilst their Ai Formaggi is good (my favourite pizza), it is not as good as Pergola or Olivia's pizzas). However, their house focaccia is to die for (it is worth having a glass of wine here just for the focaccia), and the house wine is really good. In addition, I have found that the servers know the wine list well, and are able to recommend wines with your pizza (or pasta).
Whilst they have a small selection of pastas (like 3), the pizza is what people come here for. They have a wood-burning oven, and use a special type of wood that burns at a very high degree. As a result, the pizza is only in the oven for around 60 seconds.
Finally, the reason I include Villa Paradiso amongst my restaurant recommendations in Bergen: the atmosphere and vibe. I know I said the pizza isn't the best in town, but if you are looking for a relaxed place to enjoy good wine with friends, this is it. They serve the house wine in carafes, and are the only place in Bergen where I know this is done.
This means you can casually enjoy a liter (or half a liter if you insist) of great red with friends, good conversation and decent food. It is a great, lowkey place for dinner, and is also super centrally located right by Torgallmenningen (the city center square).
Address: Øvre Ole Bulls Plass 1
Honorable Mention: My Favourite Bergen Brunch Spot
Finally, I have one more restaurant I need to tell you about. Bergen Brunsj has become a staple for (you guessed it) brunch, and is as far as I know the only restaurant in Bergen that specialise in this concept.
At Bergen Brunch you are served brunch boards consisting of a small main, a side and a dessert – inspired by a city from around the world beginning with B. So, over the years they have served Brooklyn Brunch, Belfast Brunch, Barcelona Brunch, and of course (their staple) Bergen Brunch.
The menu changes regularly, but the Bergen Brunch board is always on the menu (consisting of a traditional Norwegian breakfast/brunch: smoked trout, scrambled eggs, local cheese, yoghurt with granola, sour dough bread, salad and a cinnamon twist).
My personal favourite through the years was the Beauvais Brunch, a french brunch with croque monsieur, french fries and an apple crumble.
In addition to the boards, they have another brunch staple at the ready for you: champagne and sparkling cocktails! What's not to love?
Make sure to always reserve a table if you are planning on dining here on the weekend. You'll be lining up with the rest of the city, but trust me: it's worth it!
Address: Kaigaten 16
Other notable Bergen restaurants
Finally, I wanted to list a few more restaurants and eateries that didn't quite make the cut above, but that I feel are worth mentioning in case you are looking for something very specific (such as a family-friendly restaurant or somewhere to have classic nachos).
These are just included in list form, but don't write them off just because I haven't given them a proper review above. I have included a sentence or two about each to give you an idea of what to expect.
Casa del Toro – The only Tex-Mex restaurant in Bergen, and my favourite when I am craving enchiladas.
Pasta Sentral – A very family-friendly restaurant with a huge selection of pasta dishes
Trekroneren – A Bergen classic: this is literally a hot dog stand, with roots back to 1946! Originally, hot dogs cost three kroner ("tre kroner"), which is how they got their name. If you are a foodie, make sure to try their reindeer hot dog.
Daily Pot – If you are craving something healthy, head to Daily Pot for great soups and bowls. Everything is made fresh, and so yummy. Perfect for lunch.
Dirty Vegan – A very popular vegan restaurant.
Bergen Restaurants & Dining Out: FAQ
Now that I have shared (literally) everything I know about Bergen food, restaurants and places to eat (and even given you an introduction to New Nordic cuisine), I thought I'd round up with a little FAQ. These are the most frequently asked questions I get about eating out in Bergen.
If you think of any unanswered questions, please leave them in the comments below!
Do I need to reserve a table at restaurants in Bergen? If so, how?
Usually not, but if you are visiting in the summer months or in late November and December (Christmas party season), you should. The summer months are busy, so it is always advised to reserve a table in advance, especially if you have a specific restaurant you want to eat at.

Most restaurants have online booking available on their website.
How much do I have to tip in Norway?
Tipping in Norway is not necessary or expected. Every server, chef and sommelier are paid a living wage, and do not rely on tip. Of course, if you have had an outstanding service and are really happy, leaving a tip is always appreciated, but it is not necessary. If you want to round up to the nearest 100 or 50, you may. But there is no need to tip 20% like you might be used to in the US.
Do I have to tip at restaurants in Bergen and Norway?
No, you do not have to tip at restaurants in Bergen and Norway. Tipping is appreciated, but not necessary or expected.
Is water free at restaurants in Bergen?
Yes, water is free at restaurants in all over Norway. Norwegian tap water is really good, and of high quality.
What are typical dishes I should eat in Bergen?
The traditional Bergen fish soup is a must, and of course a hot dog from Trekroneren (the hot dog stand from 1946).
How many Michelin star restaurants in Norway?
There are 14 Michelin star restaurants in Norway. Two of these are in Bergen, three in Trondheim, two in Stavanger, one in Lindesnes and the rest in Oslo.
Visiting Bergen Soon?
There you have my complete guide to the best restaurants in the city, and I hope you have a bit of an idea of where to eat in Bergen now.
Don't miss my other Bergen guides here:
If you are looking for some great things to do in Bergen, here you go: