I recently visited Winnipeg, Manitoba for the first time, and had a really fun time (without kids). It was such a great trip, and I had almost a whole week to explore all the different and fun Winnipeg attractions in the city. Naturally, I felt an urge to cover everything I did whilst visiting, and so this post slowly came alive during my trip. I hope this list of fun things to do in Winnipeg for adults is helpful to you in planning your travels (I added the "for adults" part because, well, there's cocktails involved somewhere on the list). Additionally, none of the activities below specifically cater for children.
If you want to find out exactly what to do in Winnipeg right away, simply scroll down to below the first photo. There is also a helpful table of contents for you there as well – so you can jump straight to the activity you were hoping to learn more about.
First things first. Winnipeg is located in Manitoba, which is known as the heart of Canada. You guessed it, the province is right in the middle of the country, and so it is within easy reach from both the East and the West coast of North America. I flew to Winnipeg from Chicago (via Toronto, but they also have direct flights) and back from Winnipeg to New York. I stayed at the Inn at the Forks, and you can read my full review of the hotel experience here.
What to do in Winnipeg, Manitoba (22 fun things to do for adults)
With 6 whole days to spend in Winnipeg, you'll know that I found my fair share of fun things to do in the city. From an extremely unique ghost walk (unlike any other I've ever been to in my life) to amazing museums and cool parts of town, there are endless things to do and places to visit in Winnipeg. I was actually surprised with the choices I had upon my arrival!
I initially wanted to make this a top 10 list but wasn't actually able to decide which 10 activities would make the cut. So you'll find that there are quite a few more Winnipeg attractions on the list. Regardless, I'm sure you'll enjoy all of these fun things to do in Winnipeg (for adults, of course) on your trip, and I know you are going to have such a great time in the city!
If you're a foodie visiting the area, make sure to read my post on where to eat in Winnipeg (including 7 of my favourite restaurants in town)! Alternatively, if you want to skip right ahead to the after dinner drinks, here's my guide to the best bars in Winnipeg!
#1 Enjoy the River Walk
Starting with the first things I did after arriving in the city, and where the photo above is from. Winnipeg is located by two rivers; the Red River and the Assiniboine River, and there is a beautiful River Walk following the inner bend of where the Red and the Assiniboine Rivers meet. The area is known as the Forks (and is actually one of the Winnipeg attractions I recommend, but more on that later), and the River Walk is a beautiful stroll along the river. It is also a great way to get from the Forks to the Legislative Building, in addition to being the perfect low-key, first-night activity after you've just arrived in the city.
#2 Visit the Canadian Museum of Human Rights
I was really excited to hear that the world's only human rights museum was in Winnipeg, and you know I had to visit. The Canadian Museum of Human Rights is located in the Forks (and just a stone's throw from my hotel). The building itself is incredibly impressive, and I was told that the architect (Antoine Predock) spent weeks observing and surveying the land in the area to find inspiration for the impressive building. The building covers several floors of exciting exhibitions, and you walk from the dark on the ground floor, up towards the light, much like the history of human rights itself! All though we still have a long way to go..
There are quite a few exhibitions to explore in the museum, some large and some small. To catch them all I would easily recommend that you spend 4 hours there. There is a free coat check (such a great facility, especially for a travel blogger carrying a tripod), and I also recommend visiting the gift shop during your time there. I left it with a book I'd been wanting to read for a long time; Born a Crime by Trevor Noah. Personally, the most powerful exhibition was the Nelson Mandela exhibit, taking you through the horrible history of apartheid in South Africa, and Mandela's journey through it all. I will be completely honest and say I cried just a little by the end of it.
There are guided tours at the museum throughout the day, where you can really get in deep in all the galleries, and learn from someone who knows the museum well. Or you can just take a deep breath and spend a few hours walking around on your own. Either way, you are in for an experience!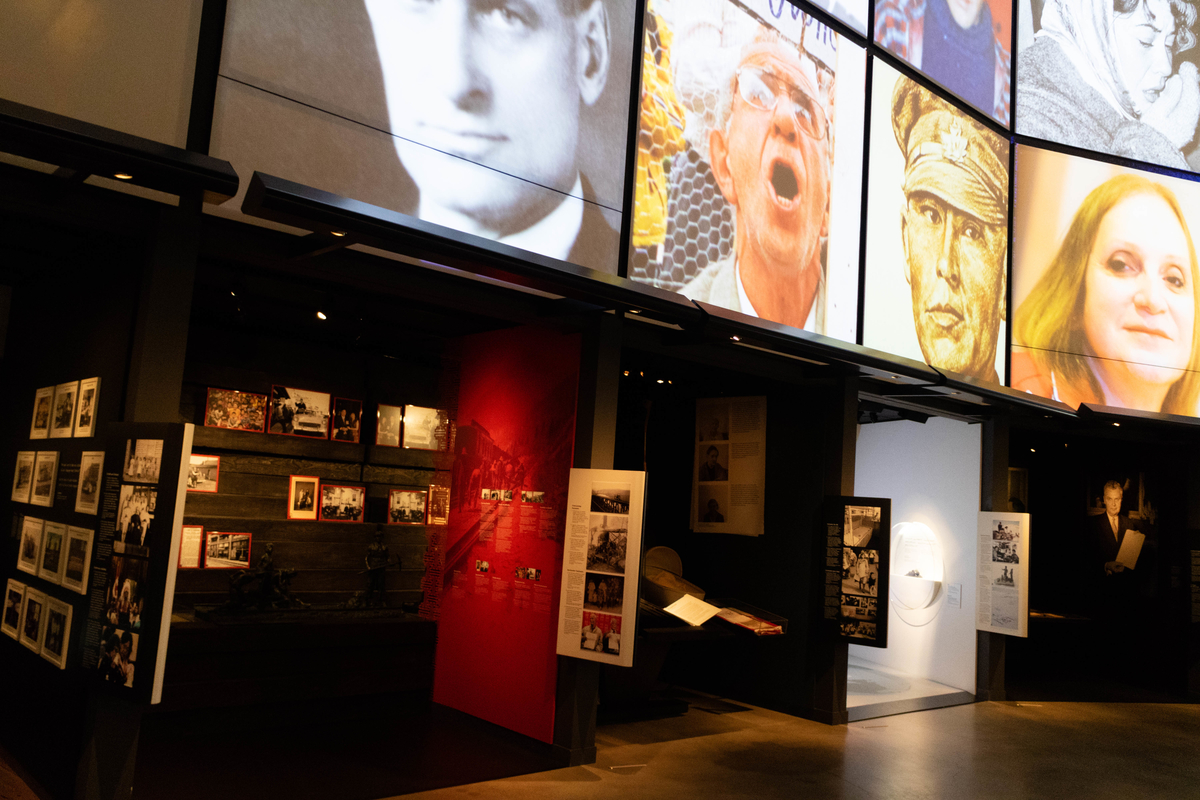 #3 Relax at the Riverstone Spa
The Inn at the Forks, where I stayed has a great spa available for hotel guests and pre-booked visitors. So, if you are feeling a little tired after a few long days of exploring all the sights of Winnipeg, why not book yourself a treatment or two at the Riverstone Spa? They also have a beauty bar, so if you just need a luxurious manicure or some brow threading (ouch), they've got you covered.
I ended up bringing one of their luxurious robes back home with me, and I spend every morning in it before deciding it's time to get dressed!
#4 Go on a Canoe Trip on the two rivers
During my stay, I joined a canoe tour of the rivers meeting at the Forks, and I have to say that this was one of my favourite (and most fun) things to do in Winnipeg! I was picked up at my hotel, and we made it out to the river, just me and my guide in a canoe on our own. We started by paddling along the Assiniboine River, until we got some magnificent views of the Legislative Building from the waterfront, and enjoyed waving at those strolling on the River Walk from the canoe. From there we turned around, and paddled back to the Forks, before heading up the Red River.
There, we had a pretty epic view of the Human Rights Museum and the St. Boniface Cathedral, and the sky was perfect for photos (as I am sure you agree, just have a look below). The trip was timed for sunset, so the temperature was perfect too (I visited in the summer, so it was hot during the day). Then we paddled the third river direction (also the Red River) for a little while, before turning around and heading back to the Forks.
All-in-all, I believe we spend about 1,5 to 2 hours on the water, and it was such a great way to see the city from a new angle! I definitely recommend reaching out to the guys at Twin River Travels to book a trip of your own when you are visiting Winnipeg!
If this sounds like something you'd love to do whilst in Winnipeg, head this way to rent a canoe during your trip!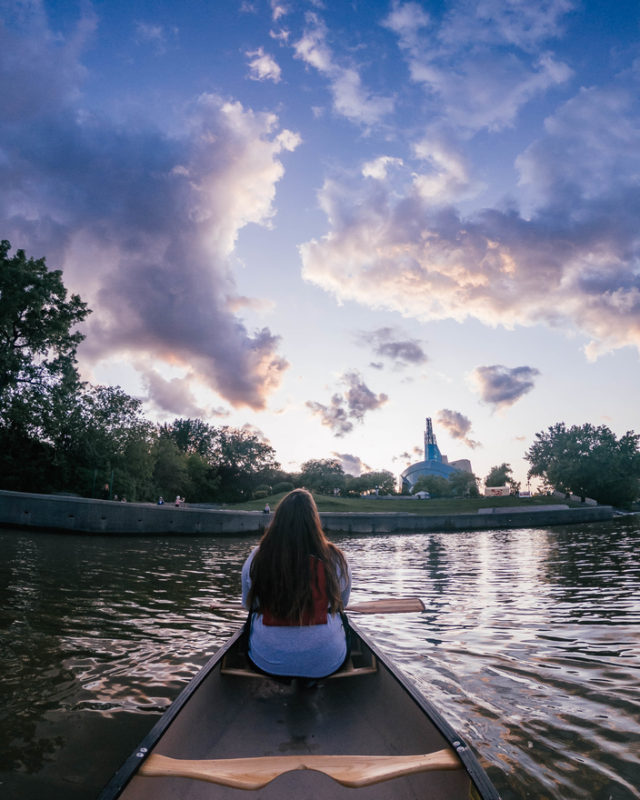 #5 Visit the Children's Museum
Okay, okay. I know I said this was a post of fun things to do in Winnipeg for adults. But if you, like me, are a child at heart (Peter Pan syndrome, anyone?) you might want to know about this activity. The Children's Museum is interesting because the building itself is actually the oldest surviving train repair building in Western Canada. The museum itself is an innovative collection of exhibitions where you are encouraged to touch, play and learn.
But now that we've mentioned that, let's move on to the important stuff.
#6 Go to a wine tasting
During my visit to Winnipeg, I dropped by the wine store at the Forks to see if they had any Canadian wine I could bring home to my wine club. They did, but they also did one better. They told me about a wine tasting with a couple of Canadian wineries at a bar called Forth during my stay, and of course, I had to make time to go! It was especially perfect as Forth was one of the places I really wanted to visit in Winnipeg, so I got to cross two things off my list. But more on that in my guide to where to eat and drink in Winnipeg (head this way for it).
The wine tasting was hosted by Elevage Selections, who also host frequent wine parties (!) at Forth (so make sure to check their Facebook events before your trip to Winnipeg!). What was so special about this tasting was that the owner of two of the wineries; Lock & Worth and Nichol Vineyard, was there to share information about the wines we sampled and answer questions. I learned that their wines were very popular in Norway, and that one of the sauvignon's (I believe) is actually the house wine at the Canadian consulate in Norway! Such a small world, ey?
Find Forth on 171 McDermot Avenue in the Exchange District.
#7 Visit a microbrewery
One of the best parts of the wine tasting (except for the free wine) was that I made a local friend. Haley works in the area (the Exchange District), and offered to show me a couple of more places after the tasting. I wasn't difficult to ask, and so we headed to a microbrewery in the city, with the coolest interior I have seen in a long time. Nonsuch Brewing Company has a Taproom on 125 Pacific Avenue, and offer several of their beers on tap so you can try them out.
During my visit, they had 7 available beers, and I asked for one that was fitting for someone who doesn't like beer (I know, I know). What they gave me was the best beer I've ever had, so I guess I was right to ask! This is definitely a place I recommend visiting while you're in town, especially if you are a beer lover looking for Winnipeg activities for adults!
#8 Hang out in the Exchange District
This brings me to the next item on the list, which is quite simple if you are wondering what to do in Winnipeg; hang out in the Exchange District. This historical area of the city has loads of cool bars, great restaurants and interesting architecture, and is definitely worth a visit when you are in town. There are frequent events, such as markets, live music, walking tours and more, and the Exchange District website is a great place to find out what's going on.
Here are the best places to grab drinks in the Exchange District!
#9 Visit the Forks Market
I have mentioned The Forks several times already, and that is with good reason. This is an incredible cool area of Winnipeg, where I personally ended up spending a lot of time. Historically, this is has been a meeting place (and trading place) for the First Nations groups of the area for thousands of years, and has received its importance due to its strategic location where the two rivers meet and join. Thus, it was easily reached back when boats and canoes were the main modes of transportation.
Today, the Forks is a thriving area with lots going on. It is where you'll find the Human Rights Museum, the Children's Museum, the Inn at the Forks, the River Walk, and let's not forget the Plaza and the Market. At the Forks, they have an indoor market with lots of great stalls, restaurants and offers. There is lots of seating both inside the market building (almost like a food court) and also outside by the river and the Market Plaza. At the Plaza, there are regular events taking places, such as swing dancing, dog training (or at least that's what I thought I was watching) and other shows.
Inside the market building, there is the above-mentioned wine shop, some a la carte restaurants and a bunch of "hole in the wall" style places to grab food. From Bindy's (Caribbean) to Simon's (steaks) and sushi, you'll find something for everyone. Outside is the Common, a bar serving up several beers on tap and lots of wine. Having a seat on the grass or one of the seating areas by the Plaza with a nice glass of wine and some food at the end of the day comes highly recommended (by me)!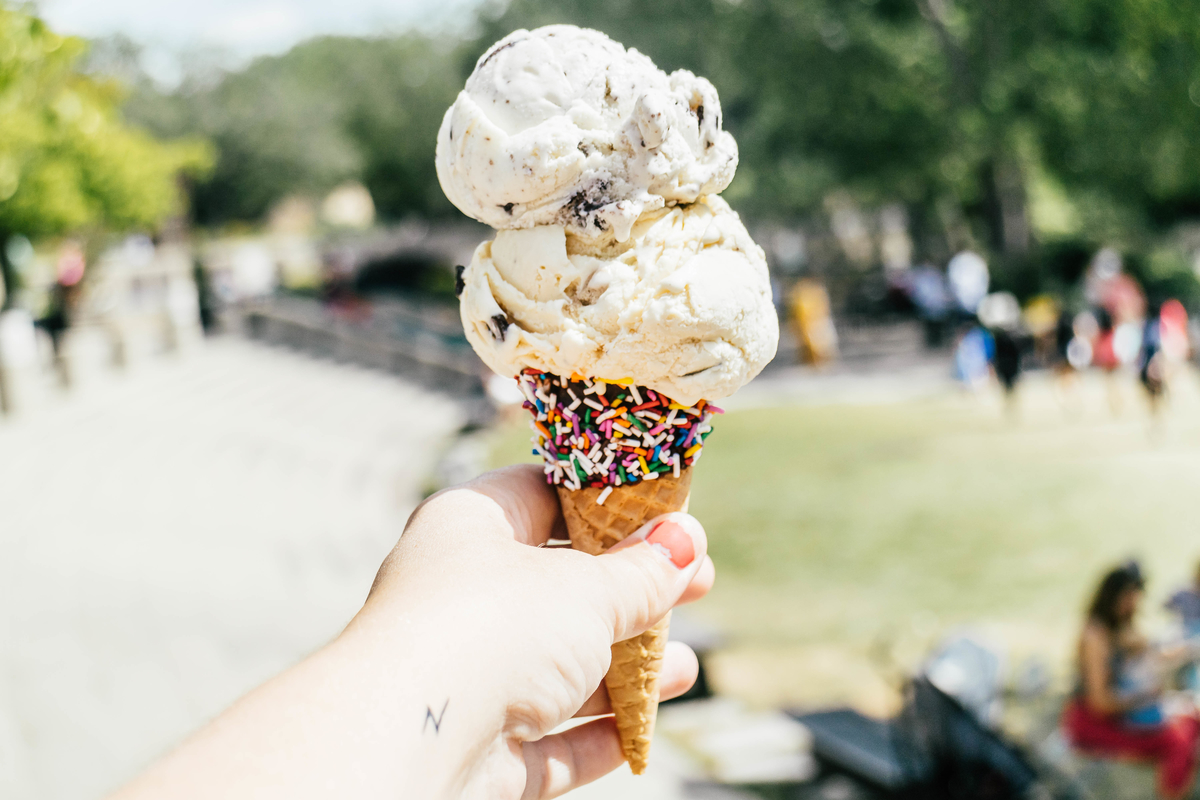 #10 Take a guided river tour
When hanging out at the Forks you'll see a few funny-looking boats travelling up and down the river. These are the boats of the local River Tours, and they depart quite frequently throughout the day for anyone wanting to get a guided tour of the area. The knowledgeable captains take you through the rivers on a fun-fact-filled journey, where you'll see several important sights throughout the city. Please note that the tours are only available in the high season (currently May to October), so don't forget to check the website before your visit to confirm whether they are running.
#11 See the St. Boniface Cathedral
The Saint Boniface Cathedral is a beautiful sight, and one of the things you shouldn't miss whilst in Winnipeg. During a large fire in 1968, most of the building was destroyed, except for the walls and the front exterior of the cathedral. This is what makes it such an interesting sight because a new, smaller cathedral was built behind it in 1972. So when you visit it today, you'll see the facade of the original cathedral, and walk through it to reveal a new entrance to a smaller building.
The cemetery around the cathedral is also worth seeing (you know I love visiting final resting places), with some notable names found there. The most important person there is Louis Riel, who is considered the founding father of Manitoba.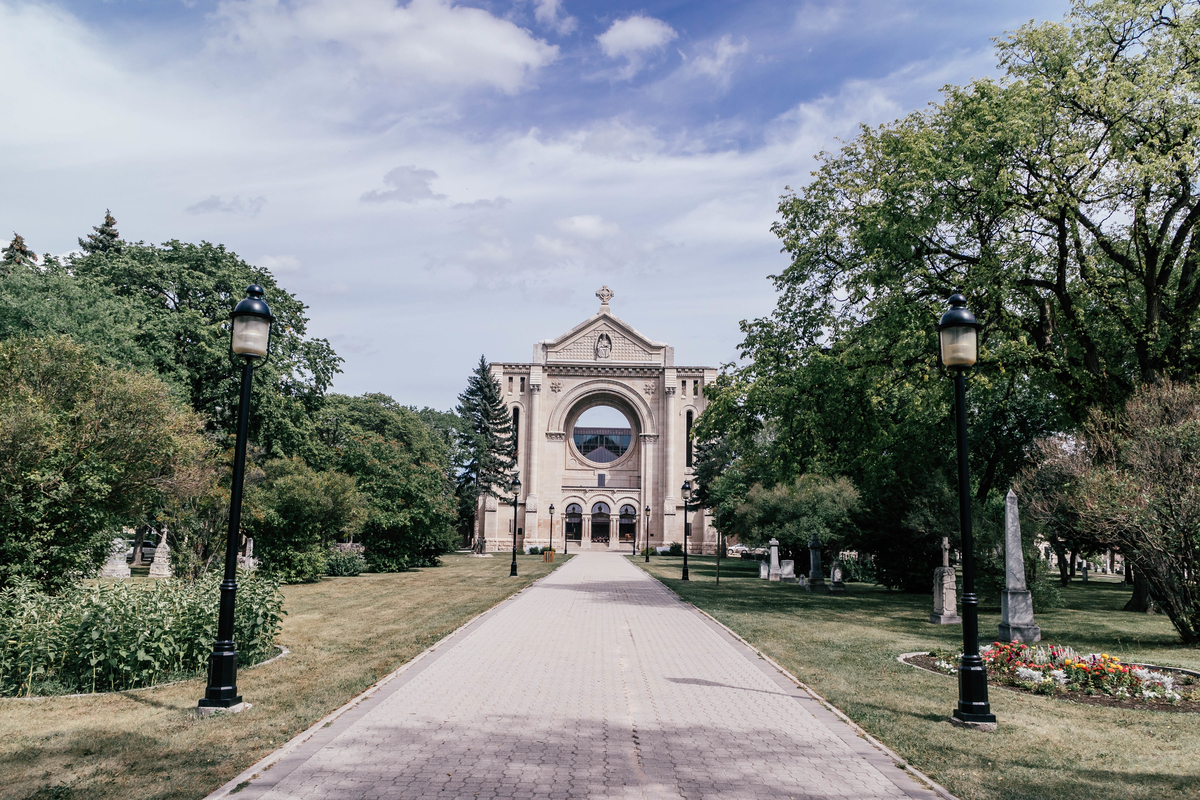 #12 Catch a movie in the park (or just visit Assiniboine Park)
Assiniboine Park is a large park in the city that is open year-round. It is the location of the Assiniboine Zoo, playgrounds, trails and some beautiful gardens. Throughout the year, the park comes alive with various activities and events, such as the Movies in the Park feature that I was lucky enough to catch during my trip (in August). A huge screen is set up in the park, and people bring baskets of food and snacks, blankets and throws, and spend an evening out under the stars. On the website, you can see what events are happening during your trip to Winnipeg, and I hope you get to go enjoy some of them! Personally, I got to watch End Game, and I was so happy (you know I love the Avengers).
#13 Visit McNally Robinson
McNally Robinson is the largest independent bookstore in Canada, which is quite cool considering so many places only have chain stores left (I know Norway does). In their store in Grant Park (1120 Grant Avenue) they have a large space covering two floors for you to browse, lots of nooks where you can sit down and sample a preview of the book your are considering, and even a cafe! They host regular events such as book readings and signings, pre-school storytime for kids, and more. I was promised that during these events you can also drink wine in the store, and am dying to go back (because that seems like my personal heaven).
#14 Have adult drinks at the Fort Garry Hotel
During my ghost walk in Winnipeg (more on that particular activity below), we visited the beautiful Fort Garry Hotel. I quickly learned about the haunted history of the place (it's one of the top 10 most haunted places in Canada!), but also of all the important guests who have frequented it through the years.
From Walt Disney, Harry Houdini and Charlie Chaplin to Jennifer Lopez and Keanu Reeves, you'll be joining some impressive ranks by stopping there for a drink. And let's not forget that this is where the King of England stayed as he announced the start of World War I (a scene you may remember from the Colin Firth movie The King's Speech).
So, grabbing a dring at the Fort Garry is definitely something for the history buffs.
#15 Go on a Ghost Walk
This was a ghost walk unlike any I've ever been on before. And I've done a few through my years of travelling (including New Orleans, York and London). This ghost walk didn't just include stories of those haunting the areas we visited, but it included actually trying to contact the spirits! I have never actually tried this before, and will admit I was just a little creeped out.
Our guide brought with her some interesting items in order to do this, and at one point I genuinely believed we managed to get in touch with someone! This was at the above-mentioned Fort Garry Hotel. So, if you are interested in joining a ghost tour that's a little out of the ordinary, don't miss this one.
If you don't want to join a group tour, you can also do a self-guided ghost walk with your phone!
#16 Lower Fort Garry
This is a National Historic Site that completely blew me away (and that is ridiculously undersold on their website). In short, Lower Fort Garry was an important fortification when it came to trade back in the 1800s, and it was part of the Hudson's Bay Company (today the oldest stock company in Canada, actually, dating back to 1670).
At Lower Fort Garry, they have preserved life as it would have been at the fort in the 1850s, and you can walk around the fort exploring what it would have looked like and how it would have operated back then. In the summer (and during school holidays, I believe) this is complemented by LIVE, COSTUMED ACTORS walking around the area just doing their day-to-day thing! If you know me at all, you'll know that I love a good theme (it was probably my time as a Cast Member in Disney World that did the trick), and so I truly enjoyed this.
The actors all play their parts so well, and in the main house (which is beautiful, by the way), you can speak to everyone from the Postmaster and his wife, to the servants as they actually clean (!) the rooms. You can ask them questions about the period, the house and the fort, or even their role in the managing of it all. It was such a fun day, and I really recommend spending a few hours there to explore.
It's worth mentioning that the Lower Fort Garry is about a half-hour drive from the centre of Winnipeg. If you have a car, there is free parking on-site.
#17 Head on a day trip!
On that note, I definitely recommend renting a car and heading out of the city if you have enough days to spend there! There are plenty of great day trips from Winnipeg, some just a half-hour away (such as Lower Fort Garry) and some a little further. From cruising on a river to visiting old rectories, there's lots to explore beyond the city.
Read next: the best day trips from Winnipeg!
#18 Relax at Thermea Spa
How does a Nordic Spa sound? Pretty good, right? Well, then you need to make sure to spend a day (or a half) at Thermëa! This spa has perfected the Nordic notion of mixing hot and cold experiences to make the most of your spa trip, and the only thing I can say about my 5-hour visit was that it was too short.
The outdoor spa area at Thermea is relaxing, with a hot pool and a colder one (though comfortable enough to sid and read in), and a cold plunge (that I tried a couple of times, and impressed myself quite a lot). There is a beach area with a bar (yes!), and lots of places to relax in front of fire pits (which is incredibly cosy once you are all snuggled up in your robe). They even sell s'mores kits in the restaurant for those wanting to make s'mores over the fire.
Naturally, Thermea also has steam rooms (infused with either orange or eucalyptus, if I remember correctly), a room with heated stone for you to relax on, and several indoor resting areas. Throughout the property, there are stations with infused water for guests, and also a tea station. But let me tell you about my favourite thing.
The Finnish sauna at Thermea Spa has hourly rituals for infusion, where staff members will melt snowballs infused with different scents on the hot rocks, and perform a movement (can I call it a dance?) routine with towels to waft the air throughout the room, ensuring that the whole room is infused. They have two different rituals; infusion, which lasts for one song and is a little less intense, and aufguss (literally German for infusion), lasting three songs. Both were amazing, and I have never been able to sit as long in a sauna as I did during the aufguss (as mentioned, it lasts for three whole songs). This was mainly because I was staring mouth-open at the movements of the towel, feeling the hot air moving through the room. Head this way to read more about the ritual, and hear me when I say that you have NEVER had a spa experience like this.
Side note: the restaurant at the spa is also worth a visit, and they are just incredible at getting that healthy comfort food vibe just right. I strongly recommend the Croque Nordik!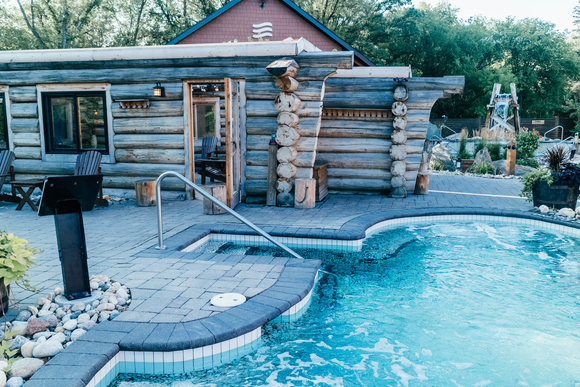 #19 Visit the Dalnavert Museum
This old house (dating back to 1895) is not only a stop on the ghost tour (it is apparently haunted) but also a museum dedicated to what life would have been like in the mansion at the turn of the century. As a hardcore fan of Downton Abbey and anything related to the aristocracy of the late 1800s, you'll know this was a stop on the list for me. The Dalnavert Museum is not only an interesting museum but also the former house of Sir Hugh John MacDonald, son of Sir John A. MacDonald, who was the first prime minister of Canada.
#20 Visit the Legislative Building
The Legislative Building, or "The Leg" as I learned the locals call it, is a beautiful and majestic building along the Assiniboine River. Though it is stunning from the outside, it is just as impressive on the inside. It is open for visitors throughout the day, and it's definitely worth heading inside for a look. It is also possible to arrange tours of the building, so whether you just want to gawk at the architecture or get the full lowdown of the history of the place, you've got it.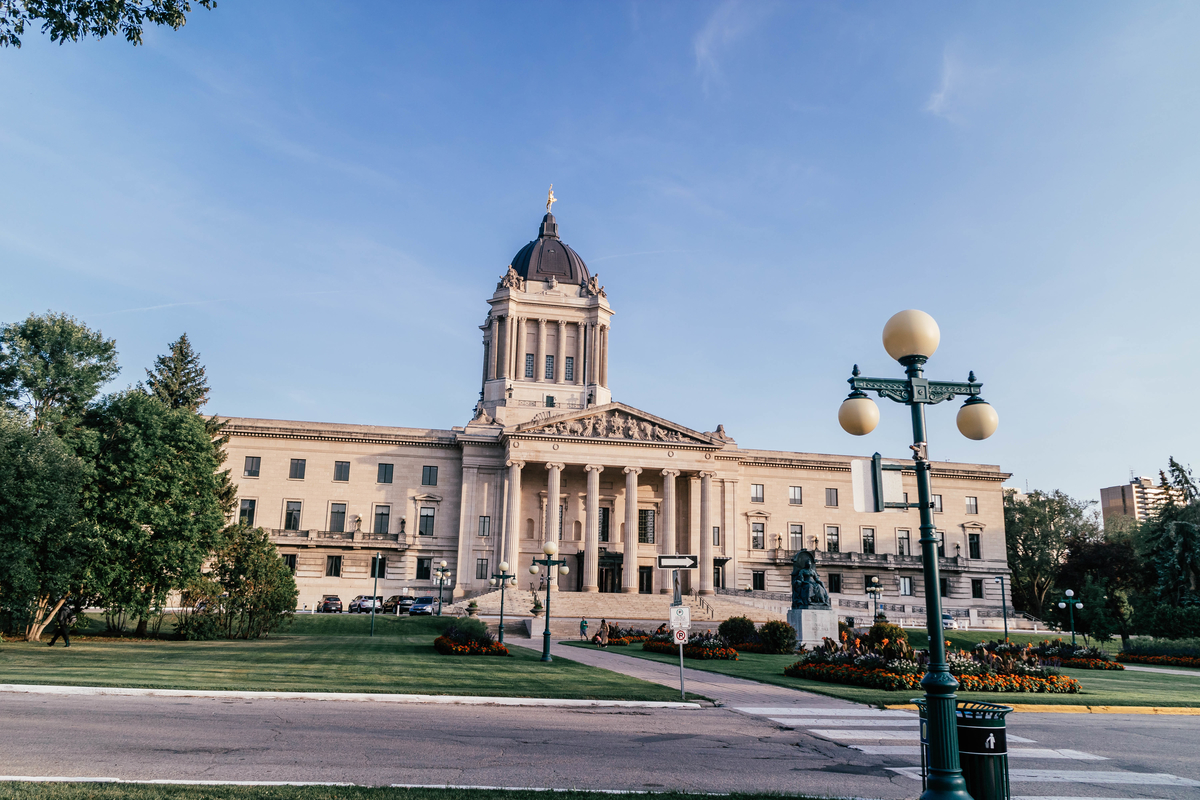 #21 Visit St. Andrew's Rectory and the St. Andrews Church
Another National Historic Site, the St. Andrew's Rectory is a beautiful building along the Red River (just a 25-minute drive from Winnipeg), originally used to house church events. The (equally beautiful) St. Andrews on the Red is just across the road, so these are two sites I recommend visiting together. The Rectory was built in the mid-1800s, and eventually became the home of the minister in the nearby church. Today, the building houses a lot of history from the area, showcasing the important history of the Red River and the inhabitants along it. In addition, there are events taking place throughout the year, such as live music on the porch and in the garden.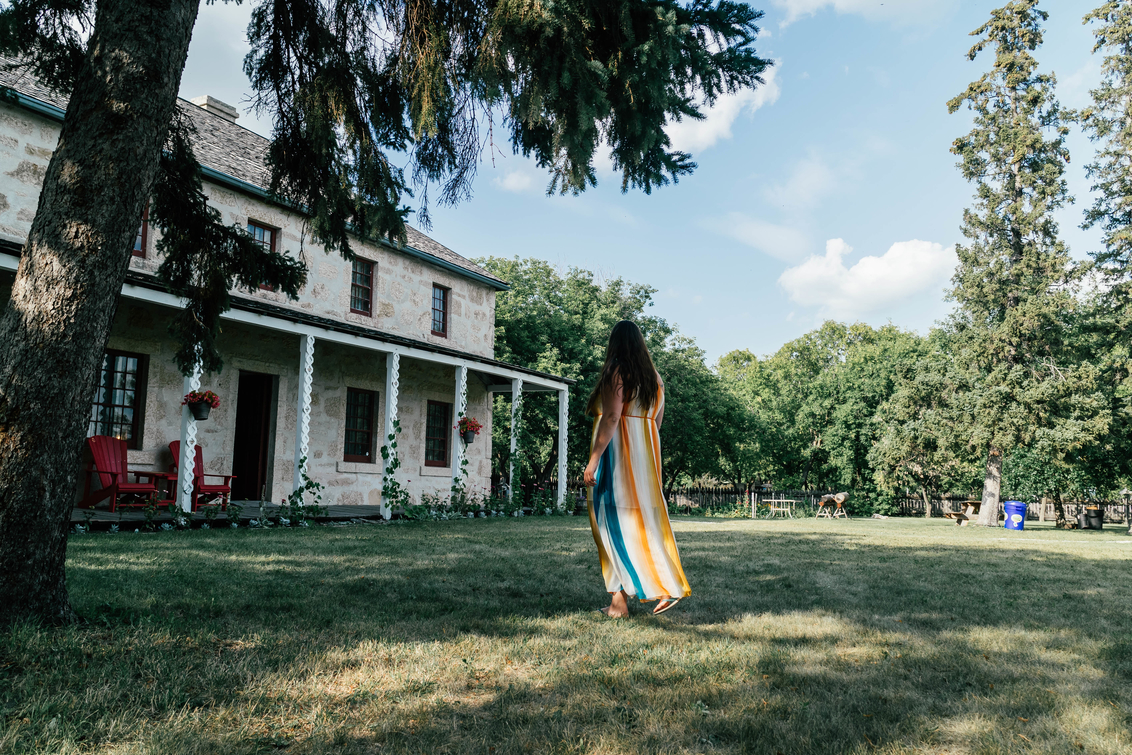 #22 Go on a Self-Guided Audio Tour around Winnipeg
If you have some time to spare and want to explore Winnipeg using just your phone, I recommend doing a self-guided audio tour! These cover different areas and topics, and will teach you everything you need to know about the city and neighbourhood you are strolling through. The best part is that it is all on your smartphone, so you don't have to worry about carrying around audio equipment that you need to return to a specific location afterwards.
Have a look at the available self-guided tours of the city below:
There you have some of the most fun things to do in Winnipeg for adults (plus the Children's Museum, haha). If you were wondering what to do in Winnipeg, I hope you have found some answers now (if you've read this whole post, you should have). I had such an amazing time in the city, visiting the bars of the Exchange District, hanging out by the river at the Forks and relaxing at the amazing spas. I know you will have an amazing time in the city as well!
A huge shoutout and thank you to Travel Manitoba for hosting me and letting me experience so many of the incredible attractions and activities Winnipeg has to offer!
Where to stay in Winnipeg
Now that you have made it all the way to the bottom of this post, and have familiarised yourself with all the great activities (for adults) in Winnipeg, you might still be looking for a great place to stay. Below is an overview of current offers and discounts on hotels in Winnipeg (click "see all deals" if none show up at first):
Here's all my Canada content in one place for you to find it easily: