As you may have figured out by now, I recently participated in Creator House Winnipeg with Travel Manitoba (thanks again for having me!). Canada had been on my bucket list for so long, and getting to spend a week in the heart of the country was a dream come true. Especially when I was given a car for the day and encouraged to go explore (and find) some of the best day trips from Winnipeg! Challenge accepted, to say the least, and so this post was born.
Winnipeg is a city with lots to offer (my guide to the best activities in Winnipeg should get you started), but it is also a city with some great tours less than a day's drive away. Some of the destinations on the list are closer to town than others, but all are best found with a car. These are the Winnipeg day trips that made it to my favourites list, and I hope you'll bookmark this post for your next trip!
Here's all my Canada content in one place for you to find it easily:
---
5 Great Day Trips from Winnipeg
As mentioned, I spent a day driving from Winnipeg to all of these places, so in theory; it's possible to visit them all in a day. However, some I recommend spending a lot more time in, and so if you have a rental car for longer than a day, I would definitely consider splitting them up. That way, you can head back to town and enjoy some of the great places to eat in Winnipeg in the evening.
Alternatively, you can just hit the bars right away. Here's my guide to the best bars in the Winnipeg Exchange District!
Anyway, without further ado, here are my 5 favourite day trips from Winnipeg, Manitoba!
---
#1 Pinawa Dam
The Pinawa Dam is a dam that is no longer in active use and is now a Provincial Park. The dam and power generator was shut down in 1951, and since then the ruins have been used for artillery practice, leaving a pretty epic place to wander around in. Surrounded by the beautiful nature of Manitoba, visiting the Pinawa Dam felt almost apocalyptic, as there are such contrasts with the stone ruins and the beautiful water. They could have easily filmed the Hunger Games there if you ask me.
The Pinawa Dam Provincial Heritage Park is about an hour and a half drive from Winnipeg.
---
#3 Pinawa Water Channel – Float and Paddle
Now let's talk about something you guys were really excited about when I shared it on Instagram. If I tell you that just a day trip from Winnipeg you can spend 2,5 hours floating down a river surrounded by nothing but Canadian nature (and a couple other floaters), would you do it?
I sure would, and I was so excited when my contact at Travel Manitoba told me about it I almost screamed (okay, I may have squealed)!
Just an hour and a half drive from the city is Pinawa Float and Paddle. Here, you will be given a tube (they have several options, and even a bigger one for groups of friends to sit together), a life jacket (should you want one) and a paddle, and set off along the Pinawa Channel. For the next 2 to 3 hours, you'll be floating slowly (sometimes very slowly, so do make sure to ask for a paddle) down the river, until the endpoint a little further down. There, you'll find a shuttle bus ready to take you back to your car.
Bonus: Pinawa Float and Paddle keep your car keys dry and safe while you float!
I had an absolute blast tubing down the Pinawa Channel and made friends along the way. Naturally, I had brought my book (I was reading Another Side of Paradise by Sally Koslow, about the affair between F. Scott Fitzgerald and Sheilah Graham) and people kept commenting as I floated by how clever that was. All in all, I LOVED my relaxing time on the river, and only wish I had someone else drive my car so I could've brought wine.
---
#3 St. Andrew's Rectory
St. Andrew's is not very far from the city. In fact, it's just a 30-minute drive from the Forks. So this one can definitely be done on your way back from some of the longer drives. If you do it at the end of the day, like I did, you won't be sorry, as they have live music out on the porch on some weekdays. Then, the locals will come with blankets and picnic baskets and simply enjoy the music.
This National Historic Site is not only a beautiful house, but also a great place to learn about the settlements along the Red River, immigration to the area (there is a tartan room on the second floor with a massive display of Scottish tartan and explanation as to which clan they belong to), and what life would have been like in the late 1800s after the rectory was built. And the best part; it's completely free to visit!
Don't miss the church across the road, it is just as beautiful as the rectory, and has a stunning war memorial.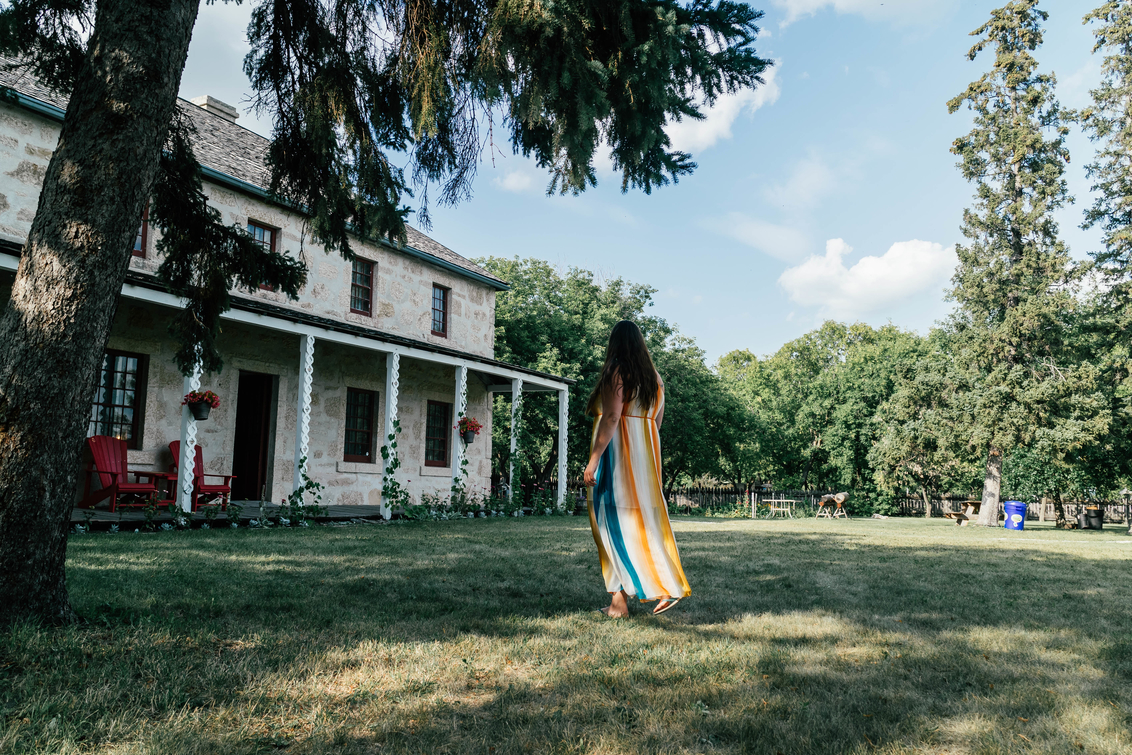 ---
#4 Whitemouth Falls
This is another provincial park that is worth a visit if you are looking for the best Winnipeg day trips. The area is beautiful, and I could sit at these rocks and stare out into the open for hours. Additionally, there are great fishing opportunities and hiking trails to explore, so make sure to pack some snacks for the road. In the Whitemouth Provincial Park, you'll not only see the pretty Whitemouth Falls, but also the Seven Sisters Falls, which cascade of a hydro-electric dam.
Whitemouth Falls is about an hour and 15 minutes drive from Winnipeg.
---
#5 Lower Fort Garry
This is one of my favourites. I absolutely LOVED visiting Lower Fort Garry, mostly due to how well they have made the experience. This is more than just visiting a National Historic Site, but a complete "take me back in time" experience, and one I strongly recommend when you are in Winnipeg! Lower Fort Garry is about a half-hour drive from town, and I recommend spending at least two hours there.
The site itself was an important trading post of the Hudson Bay Company, and the governor in charge would have been responsible for forts and trading posts ranging all the way from Canada to Hawaii! The original buildings from the 1800s still stand at Lower Fort Garry, and the preservation done is very impressive. As you walk around in the summer season you will be greeted by costumed actors and guides, all playing their parts superbly to give you an idea of what life was like in the 1850s, after the fort was built. Whether you are keen on speaking to the governor's wife or one of the maids, simply stop and greet them, and ask whatever questions you'd like!
---
Curious about where I stayed after all this exploring? Head this way for my review of the Inn at the Forks!
There you have my favourite day trips and driving tours from Winnipeg, Manitoba! All are within a pretty close proximity of the city, so you could easily do more than one in a day. Regardless of which one you pick, I hope you have an amazing time in Manitoba, like I did!
PIN THIS POST fort later: