Norway is one of the most spectacular countries in Europe, if not the world. It's a spellbinding Scandinavian wonderland full of misty mountains, turquoise fjords and incredible architecture. The real beauty of Norway is that, regardless of where you travel to, you're almost always guaranteed to have an incredible time (and see incredible things). Whether you want to experience inner-city hipness or connect with nature, you'll be able to do it all during a short road trip in Norway by car – and here are just a few of the any amazing destinations you should consider.
For more incredible places in Norway, don't miss this post, where 13 travel bloggers shared their top Norway destination.
This post has been published in Norwegian here.
---
7 Places to stop on a road trip in Norway
Having shared a bunch of Norway guides on this blog already, you didn't think I was done, did you? In addition to my custom-made Norway itineraries, you can find an overview of all my Norway posts here. And below are some of my top tips on where to stop during your (amazing) Norway road trip.
Here's a great guide to renting a car in Europe, and you can head this way for my in-depth guide to planning a trip to Norway!
Here's a map outlining all these places in Norway:
#1 Oslo
The easiest way to arrive in Norway is to fly direct to Oslo. From here, you can arrange for a hire car and begin to make your way around the country. However, you won't want to skip directly out of Norway's capital without seeing some of the sights first. There are so many incredible things to do in Oslo, so make sure to set aside a day or two (or three) in the capital.
Oslo is full of historical buildings such as the Akershus Fortress, the Royal Palace and Vigeland Park – a large outdoor area which also doubles as a museum of sculpture and design. Elsewhere, history buffs can take a look at 9th-century longboats at the Viking Ship Museum, or enjoy sightseeing on a two-hour fjord cruise. Those who want to try something different can even try a lunch of mealworms in the heart of the city! In Oslo, there's truly something for everybody.
---
---
#2 Stavanger
Stavanger is the fourth-largest city in Norway, although in truth it resembles more of a quaint coastal town. It features a beautiful harbour full of charming features, and traditional wooden buildings which serve as a reminder of simpler times. There's a curious mix of architecture throughout Stavanger, with modern buildings nestled among constructions which date back to the middle ages. The city itself is small enough to be explored via foot, which means you can park up your hire car and enjoy some fresh air as you take in the sights.
Good to know: the Norway Cruise Pass will get you discounts on experiences and museums in Stavanger as well as Oslo (so it's worth getting before your trip even if you aren't travelling on a cruise ship).
---
#3 Pulpit Rock
Those with a penchant for the outdoors won't want to miss the opportunity to scale Pulpit Rock, or Preikestolen as it's known locally. It's estimated that some 300,000 visitors are drawn to these hills every year, and with good reason – the views are absolutely breathtaking. It takes approximately four hours to complete the hike, which means you'll want to set off early. However, depending on the season of your visit, you might get a glimpse of the Northern Lights if it's dark enough!
The Pulpit Rock hike is within driving distance of Stavanger, so crossing these two off your list during your road trip in Norway is perfect!
Read my complete guide to the Pulpit Rock/Preikestolen hike here!
---
#4 Bergen
While Bergen has a reputation for being a bustling city, it's rare to find an urban area surrounded by so much natural beauty. Bergen is encircled by fjords and mountains and contains a medieval wharf which is classed by UNESCO as a world heritage site. Foodies will love the local fish market which contains plenty of freshly caught produce. I have lived in Bergen for over a year now, and fall in love with the city a little bit every day!
Don't miss some of these tours during your stop in Bergen!
---
#5 Stalheimskleiva (one of the coolest Norway road trip stops)
No car trip across Norway would be complete without a drive along one of the steepest roads in Northern Europe. Those who brave the winding roads are rewarded with exceptional views unlike any other in the world. Although driving in Europe is now the safest it's ever been (according to Europcar), you should still be careful when negotiating the turns on this route – and don't expect to rely on GPS: the road is too high up to pick up a decent signal!
Stalheimskleiva is located about a 2 hour drive from Bergen, on your way to the fjords and the next stop on this Norway road trip list. It is included on my list of the best things to do in Gudvangen, and should not be missed whilst travelling Norway.
---
#6 Flåm
As you know, this is the area where I grew up, but also a place you shouldn't miss during your road trip in Norway. Flåm is a small, quiet village in the autumn and winter, but it truly comes alive with visitors and activities in the late spring and summer. If you are planning on visiting the area in the offseason, don't miss this guide to Norway in autumn! Whilst in Flåm, you'll want to go on the Flåm Railway, which has been named one of the world's most scenic train experiences. Additionally, make sure you have time to go on a fjord cruise to Gudvangen, which will take you through the UNESCO listed Nærøyfjord.
Whilst in Flåm, don't miss some of my favourite activities: Flåm Zipline (Northern Europe's Longest), and the Stegastein Viewpoint in Aurland!
Here's my eBook/travel guide to Flåm and the surrounding area!
---
#7 Lofoten
This one is a bit out of the way if you are mainly driving around southern Norway during your road trip, but I wanted to include it on the list because Lofoten is such an amazing place. To really experience it to the fullest, it is necessary to rent a car, and so no list of places to stop on a road trip in Norway is complete without it. If you have read my post on reasons to visit Lofoten (seriously, you should), you'll know why it's on the list. These beautiful islands are absolutely breathtaking, and I recommend spending at least 4 days exploring. If you are visiting Lofoten in the winter month, make sure you plan in order to see the Northern Lights!
Planning your own road trip in Lofoten? Don't miss my self-drive Lofoten itineraries here!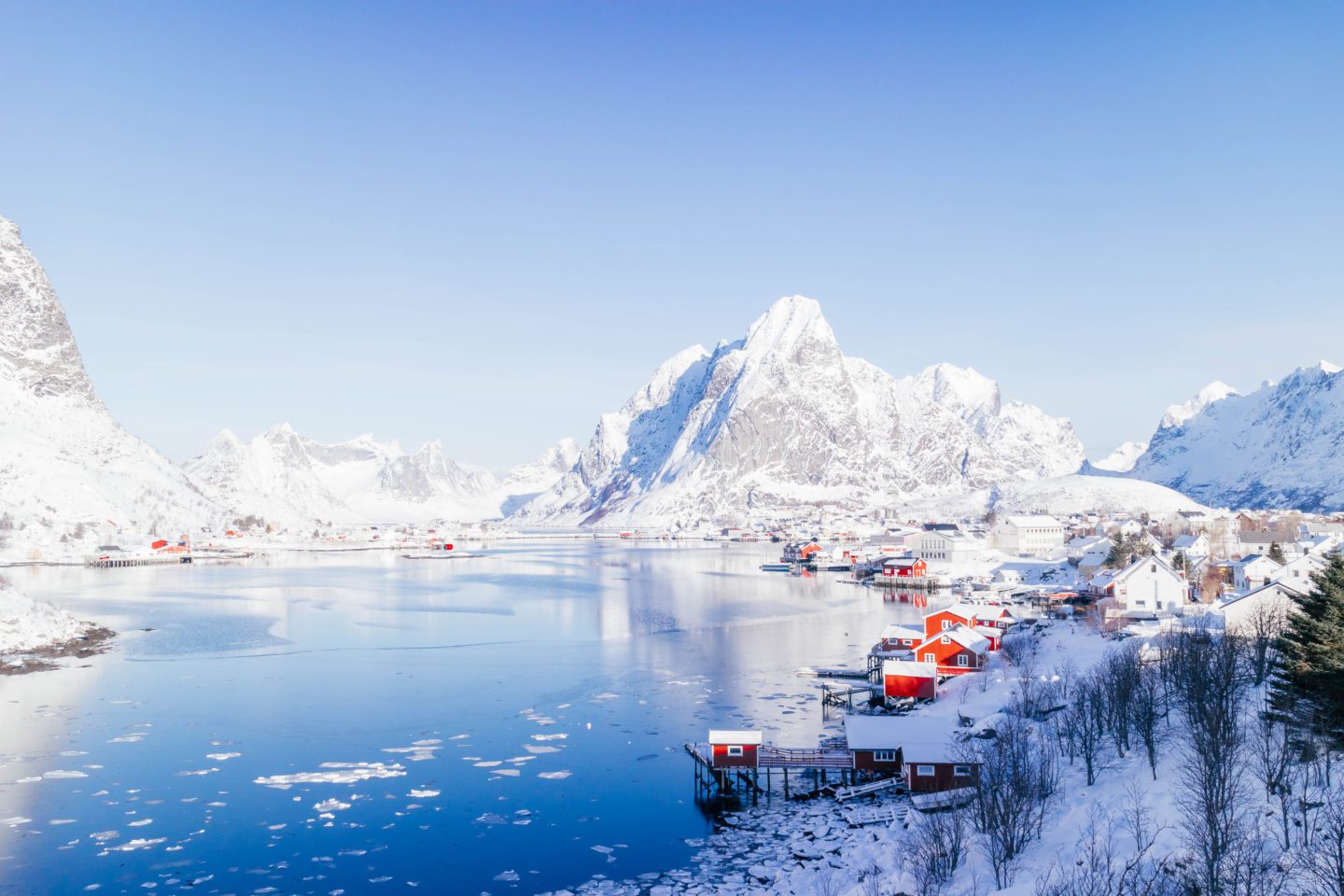 ---
There you have some of my top tips on where to stop during a road trip in Norway. Naturally, there are lots of other beautiful, stunning, incredible (I could go on) places to see in Norway, so make sure to check out some of my itineraries and all my other Norway posts before you go! Have any questions about road trips in Norway? Leave them in the comments!
Starting your road trip in Oslo? Here's How to get from Oslo to Flåm!
---
PIN THIS POST for later: